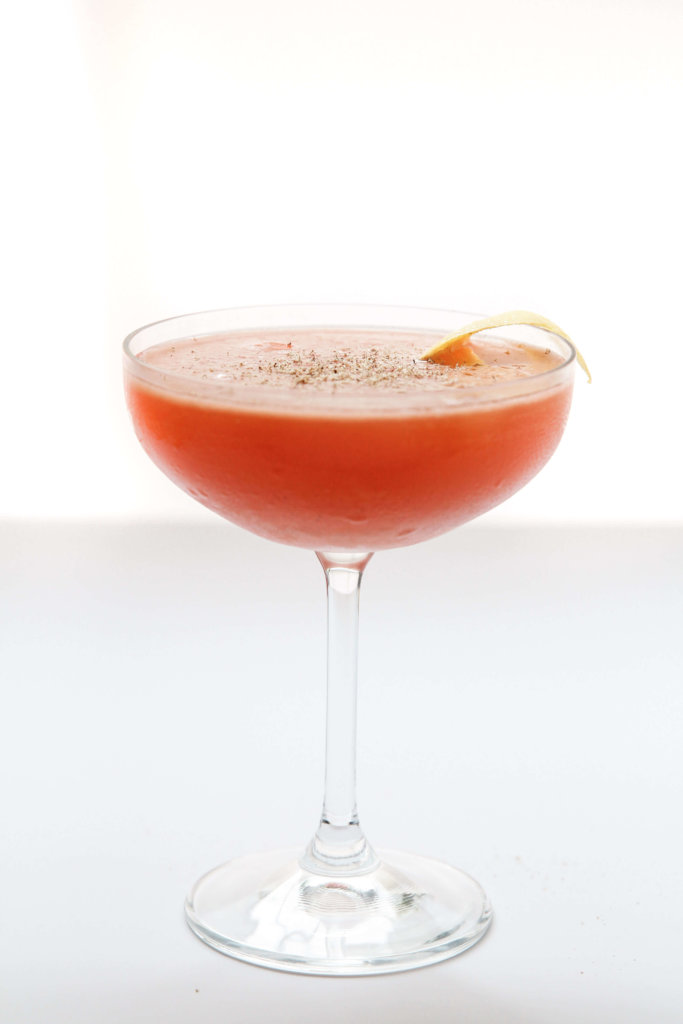 You may be thinking to yourself right now….."Spiced Whiskey Crusta? That does not make sense." You could also be thinking…"What is a Whiskey Crusta?" Well I am going to do a little more backstory to this post and an explanation of the components that go in to this drink and explain to you why I titled this drink – Spiced Whiskey Crusta.
This drink is not a traditional Crusta cocktail. You may have heard of a Brandy Crusta before which is a really simple but delicious cocktail that has brandy, dry curacao (orange liqueur), simple syrup, lemon, Angostura bitters and a sugar rim.
Supposedly this drink originated in New Orleans in the 1850s and was one of the first cocktails, in a bar, to be served with citrus and a sugared crusted rim which gave way to the origin of "crusta" in the cocktail's name. The Brandy Crusta led the way for many other popular drinks such as the Sidecar and a Margarita.
As you can probably tell by the images you have seen of the cocktail you can tell this "Crusta" does not have a sugared rim. I know that is a requirement of this drink but it really did not need it and to be perfectly honest, I never like a sugar rimmed cocktail.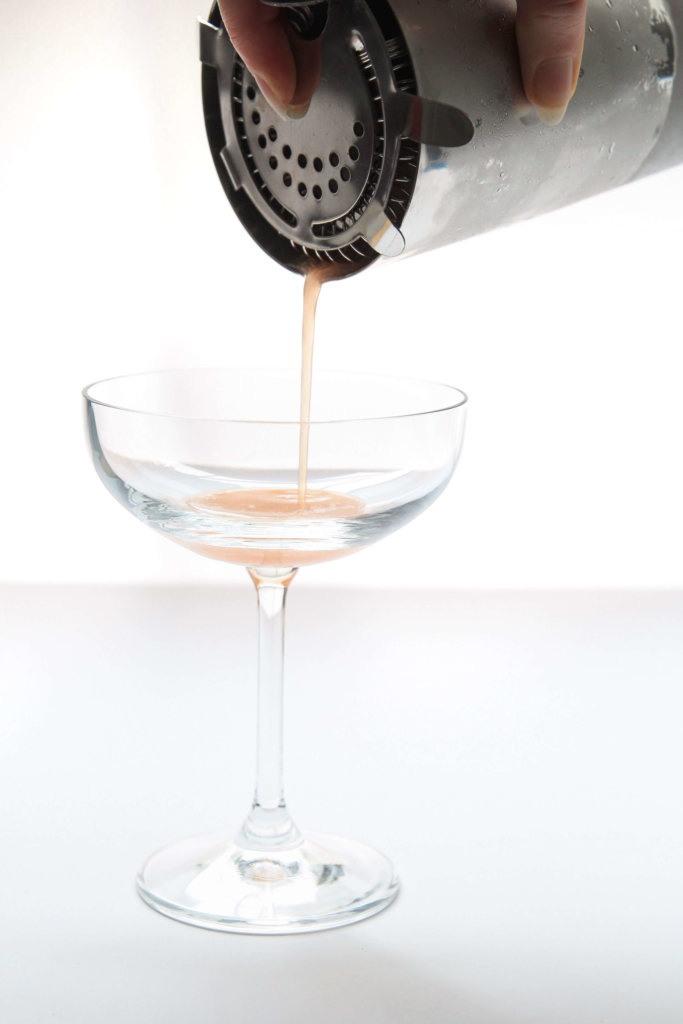 Although this drink varies a good deal from a Brandy Crusta it has a lot of similar components and flavors and is a modern twist on a classic cocktail. So all you cocktail enthusiast out there need to just give this a try because it will definitely be worth your time.
I am going to go through some of these ingredients and do a short explanation of them and why they are important in bringing this drink together.
The main components of this drink are – Monkey Shoulder Scotch Whiskey, Solerno, Campari, Lemon, Spiced Pineapple Syrup, Angostura Bitters and Nutmeg (for garnish). So lets have some fun breaking all this down.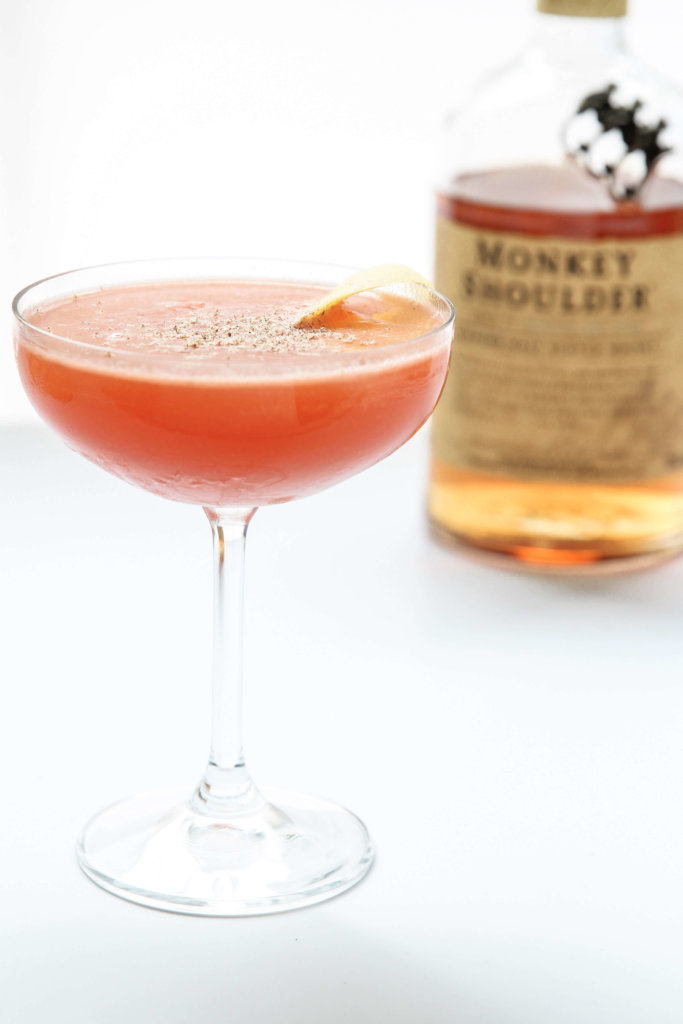 Monkey Shoulder Scotch Whiskey – is a triple blended malt scotch whiskey that is aged in bourbon barrels and that lends itself to strong notes of vanilla and gives it a very sweet and smooth finish. I am usually not a huge scotch fan but I really love this blend. It is just smooth enough and just smoky enough.
If Monkey Shoulder isn't available at your local liquor store than definitely check and see if they can order it. Alternatively, a solid and premium Rye can act as a good substitute. It has similar flavor components and is a great base spirit lending its own unique twist to this cocktail.
Solerno – You may have read about this in my Spiced Pineapple and Cilantro Margarita recipe. It is a blood orange liqueur made from Sicilian blood oranges. The flavor of this liqueur is incredibly robust, vibrant and just perfectly unforgettable. It acts as the replacement for the dry curacao in the traditional Brandy Crusta.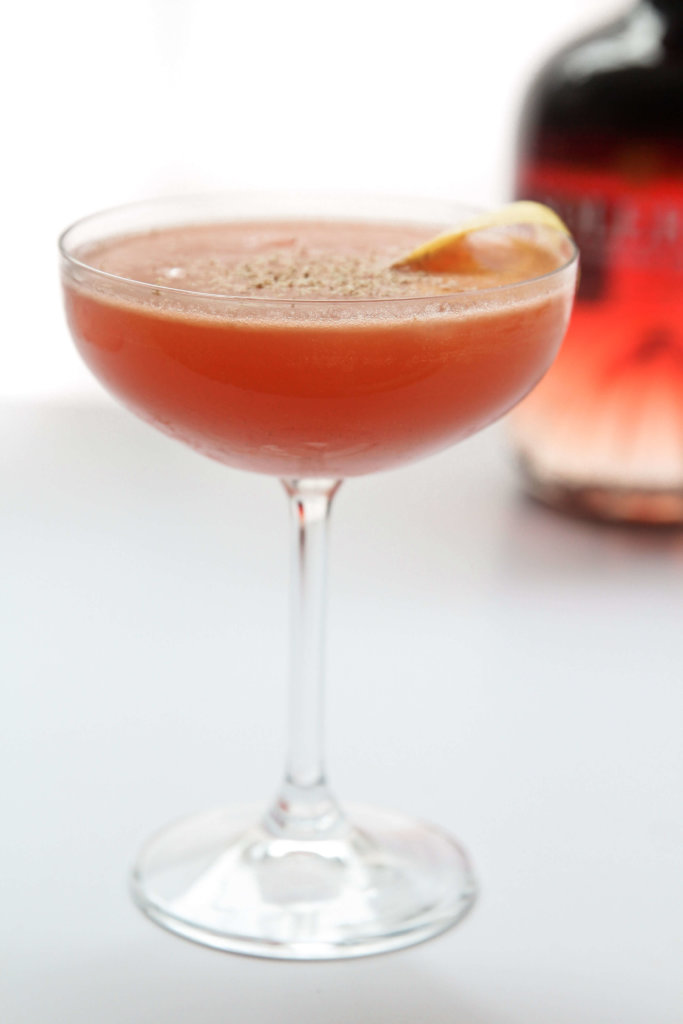 Campari – I am not sure there is enough room in this post to talk about my love for Campari. It originated in 1860 in Novara, Italy and that original recipe is still made to this day. It is a bright and vibrant colored spirit made from bitter herbs, aromatic plants and fruit. In the States it is well known for the Negroni cocktail and the Boulevardier. There is nothing that the Campari replaces in the original Brandy Crusta recipe. It is something that I added to the drink and it acts a slight bittering agent and adds a level of herbal complexity in the flavor profile.
Lemon –is a key component in a traditional Brandy Crusta. This acts as the acidity in this drink and helps balance out some of the sweetness and bitterness. The lemon really elevates this drink and provides a refreshing balance.
Spiced Pineapple Syrup – this is a personal creation of mine. I came up with this syrup about a month ago and it has become a staple in our house. It is a mixture of pineapple, sugar, cinnamon and vanilla bean. This syrup does not have as much sugar as most recipes because I chose to make the sweetness from the pineapple shine more. This also allows you to add more syrup to a cocktail without making it overly sweet. The cinnamon and vanilla continue to enhance not only the pineapple flavor but also compliment the base spirits. Although not traditional to a Brandy Crusta it acts as a flavorful replacement for the simple syrup.
Angostura Bitters – this is something that you will see in a million different cocktail recipes and should be one of the first things you buy when you start mixing drinks at home. You can almost think of bitters as tinctures. They are a combination of many different herbs, spices and botanicals. They actually originated as medicinal in nature – specifically in the form of a digestive. Putting a few drops of angostura in some soda water after eating too much at Thanksgiving dinner is always a cure all for my overly full stomach. You can think of Angostura bitters as an aromatic. You usually don't use a lot but it adds a subtle and distinguished flavor enhancement to many spirits. It also is a classic component in a Brandy Crusta.
Nutmeg – is used for the garnish for the cocktail and I would highly encourage you to not skip this step. I would also really really recommend grating it fresh over the drink with a microplane grater. The nutmeg is what brings this entire drink together. It has a wonderful aroma as you sip on the drink and it complements the spice in the syrup, the vanilla notes in scotch, the bitterness of the camapri, the acidity of the lemon and the spices in the angostura bitters. The nutmeg is not a traditional part of a Brandy Crusta but I consider it the "sugar rim" of this cocktail.
I realize this was probably an unnecessarily long explanation of this cocktail but I just had a lot of fun creating this cocktail and wanted to explain all the components that go in to making a truly fantastic drink.
Enjoy!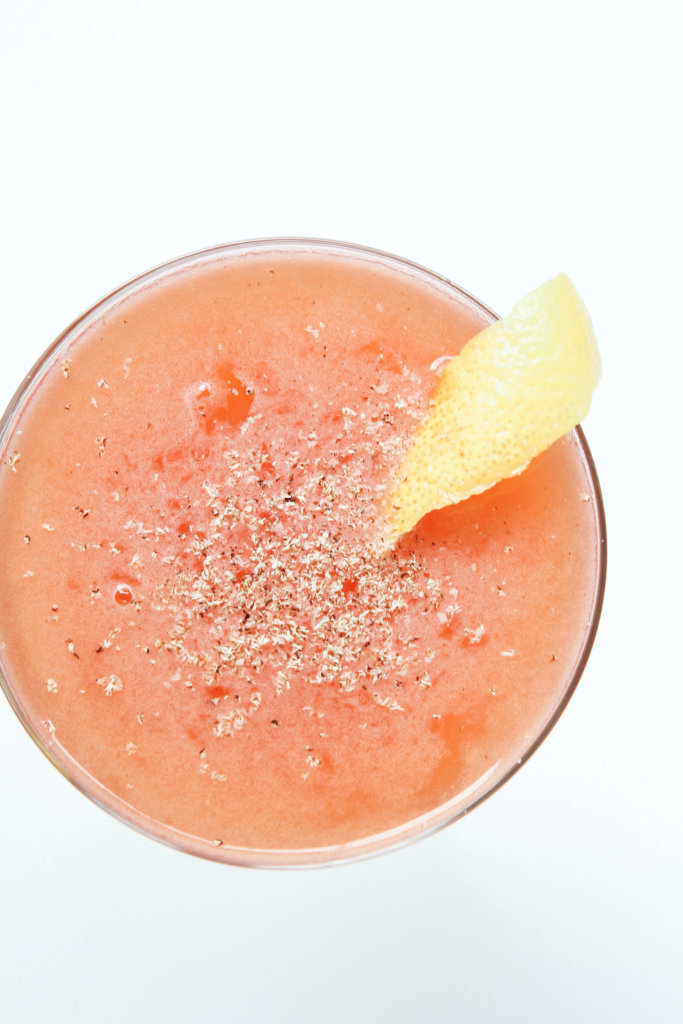 Print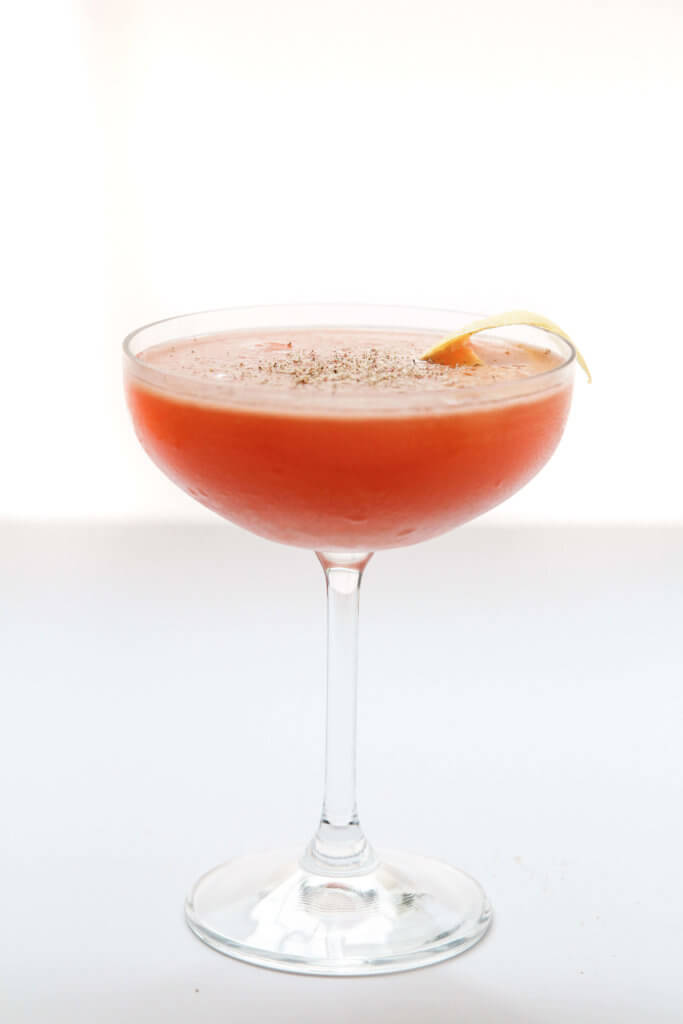 Spiced Whiskey Crusta
Author:

Prep Time:

25

Total Time:

30

Yield:

1

1

x
---
Spiced Pineapple Syrup (Yields 1 Cup)
2 cups

diced pineapple

1/3 cup

organic cane sugar

1/3 cup

water

½

vanilla bean

1

small cinnamon stick
Spiced Whiskey Crusta (Yields 1 Drink)
Garnish
Freshly grated nutmeg
Lemon Peel
---
Instructions
Syrup
Place the pineapple, sugar, water and cinnamon stick in a saucepan. Cut the vanilla bean in half and then slice in lengthwise and scrape out the inside of the vanilla bean into the saucepan and then add the vanilla bean.
Bring the mixture to a light simmer and let simmer for 20 minutes.
Remove the vanilla bean and cinnamon stick and then place the mixture in a blender and blend until smooth and then strain through a fine mesh sieve.
Store in an airtight container in the refrigerator.
Spiced Whiskey Crusta
Place all the ingredients in a shaker and then add the ice. Shake until the outside is frosted. Use a Hawthorne Strainer and strain in to a coupe glass and garnish with freshly grated nutmeg and express the lemon peel.
---
Notes
Read full post for detailed explanation.
---
Keywords: whiskey and campari, pineapple and whiskey,