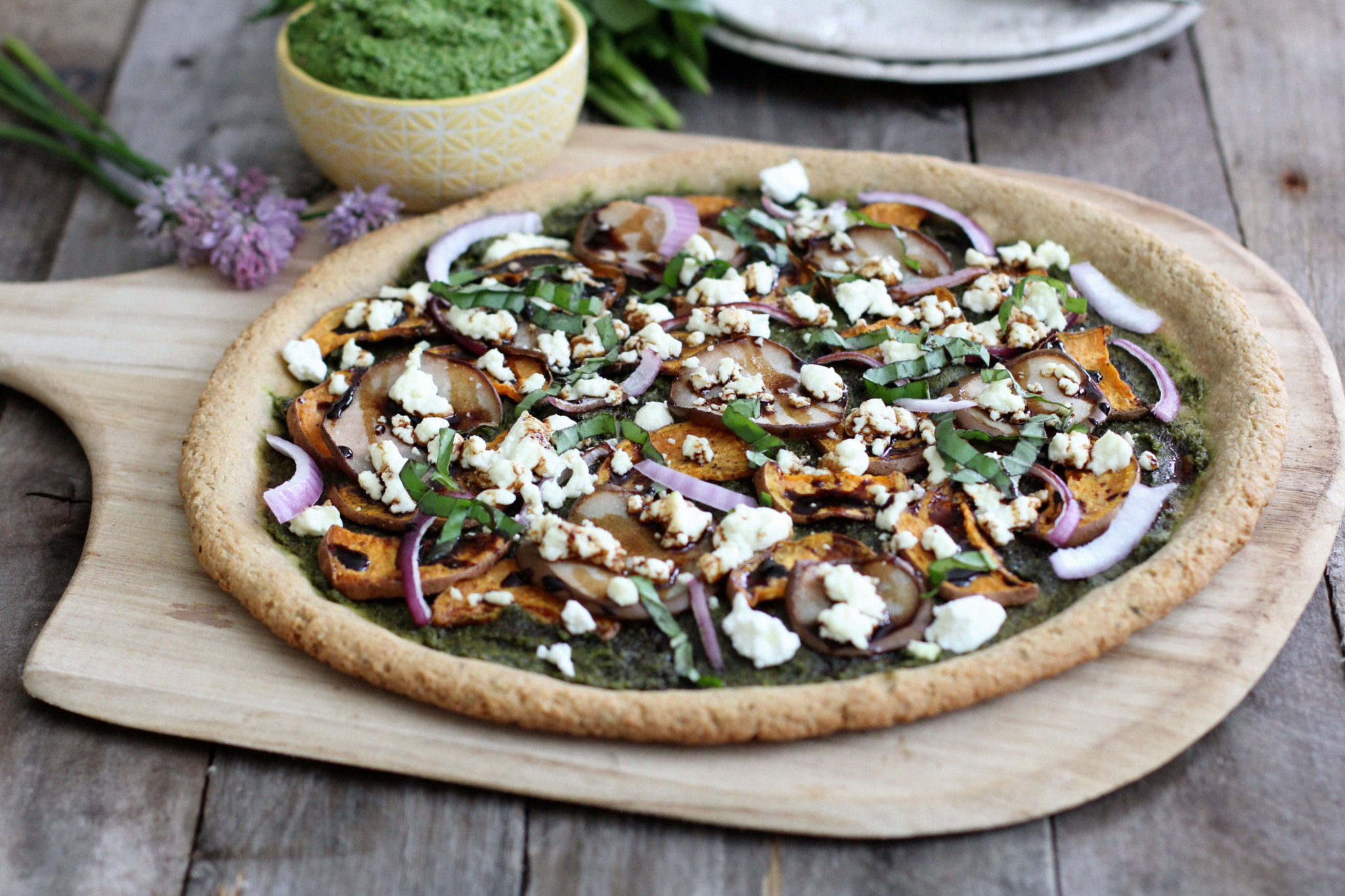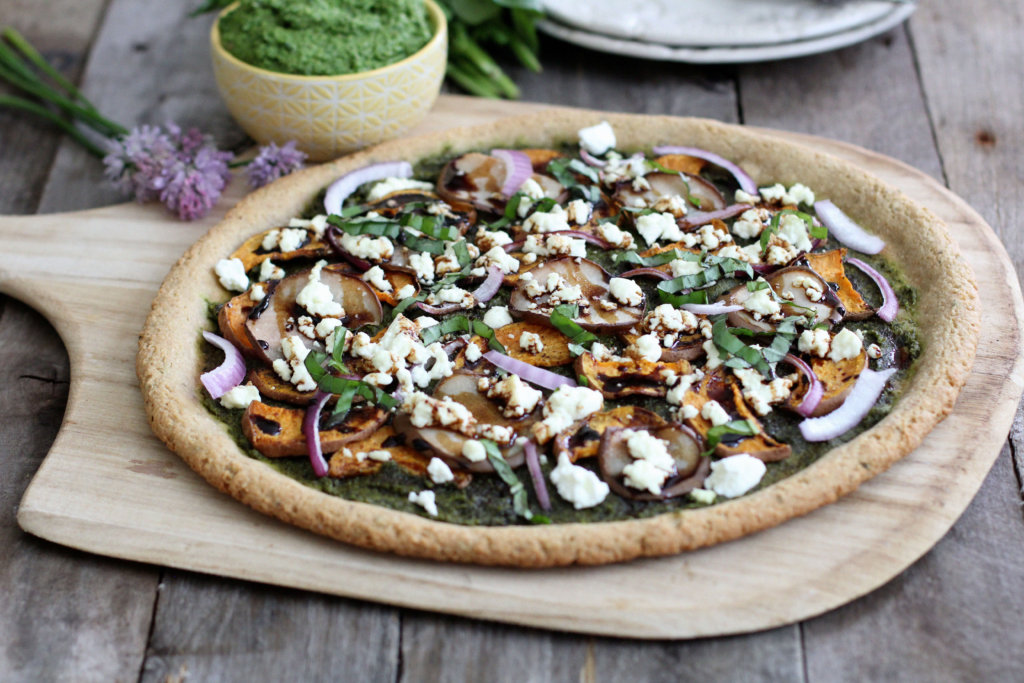 A few weeks ago I got an email from Nora from A Clean Bake. Have you seen her blog? It is amazing! Well she asked if I would be interested in sampling some products from Simple Mills. I had heard of Simple Mills Almond Flour based mixes and have had my eye on them for quite some time but have never tried any. There are not so many grain free mixes out there so was super excited to finally give them a try. I love to cook but honestly, I really don't always want to make everything from scratch.
I was super excited when we were sent the Pizza Crust mix because we seriously LOVE pizza in our house. It is probably the only gluten and dairy food that I still crave. The rest don't really sound that good but pizza always sounds good. My stomach is currently growling thinking about it actually.
If you have tried to make grain free pizza (we have many many times) you would know that it can sometimes be a little difficult to get right and also expensive. So I was really excited to try a tried and true mix.
It was really easy to put the dough together. It just required that I add water, oil and apple cider vinegar. It said to roll it out in to two 8 inch pizzas but we decided we would just do one large one. My husband rolled out the dough because he is a pizza perfectionist and likes them to be perfectly round and I don't have the patience to make pizzas round. They usually end up looking like the State of Florida or something.
We had a lot of extra kale from our CSA so decided to make a kale pesto pizza. The recipe is pretty similar to my flatbread recipe I used for the Dinner Party. It is one of my favorite flavor combinations and the addition of kale was perfect! Since I can't do any cow dairy it is nice to have a flavor packed pizza so you don't miss all the cheesy goodness.
We rolled the dough out on some parchment and then placed it on our preheated pizza stone and baked the crust some first. Then we added the toppings and finished baking it according to the instructions. It was seriously super easy and it was a super fast clean up. That is a major plus because usually pizza night looks like the kitchen exploded.
The crust has a super great flavor and texture. You could actually pick up the pizza and eat it with your hands! That is my big test with a pizza crust. I don't want to eat it with a fork and knife.
I would definitely buy the crust if I wanted a quick pizza night without all the hassle. It is also super cost effective since all of their mixes are $7.99. You can check out the other mixes on their website (I have been eying the pancake mix) or on Amazon (Prime). Our local Whole Food also sells most of the mixes.
Enjoy!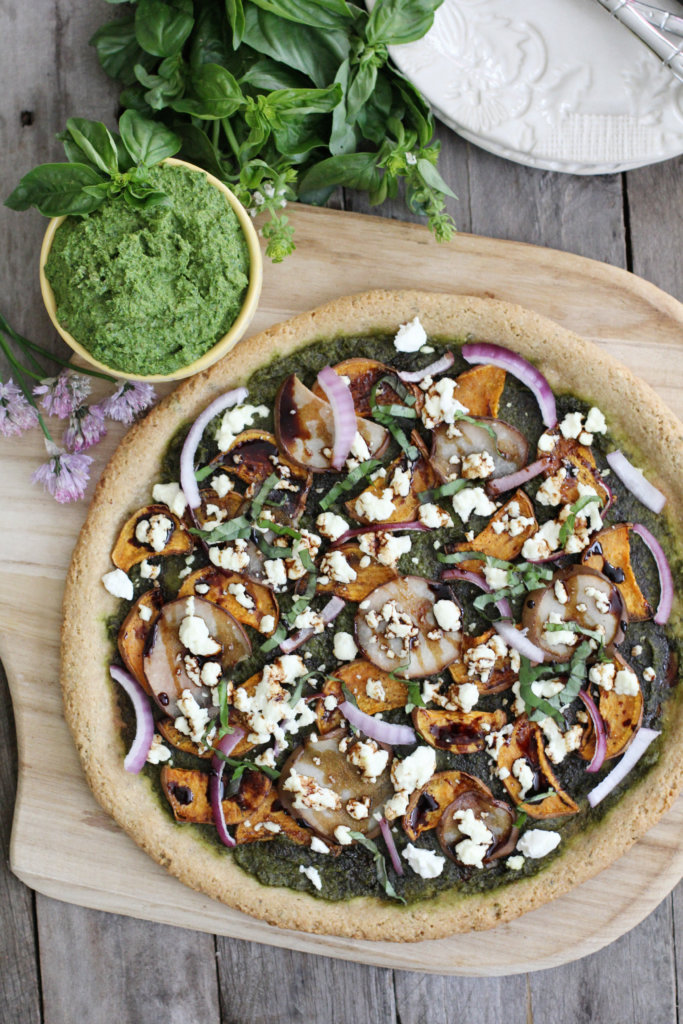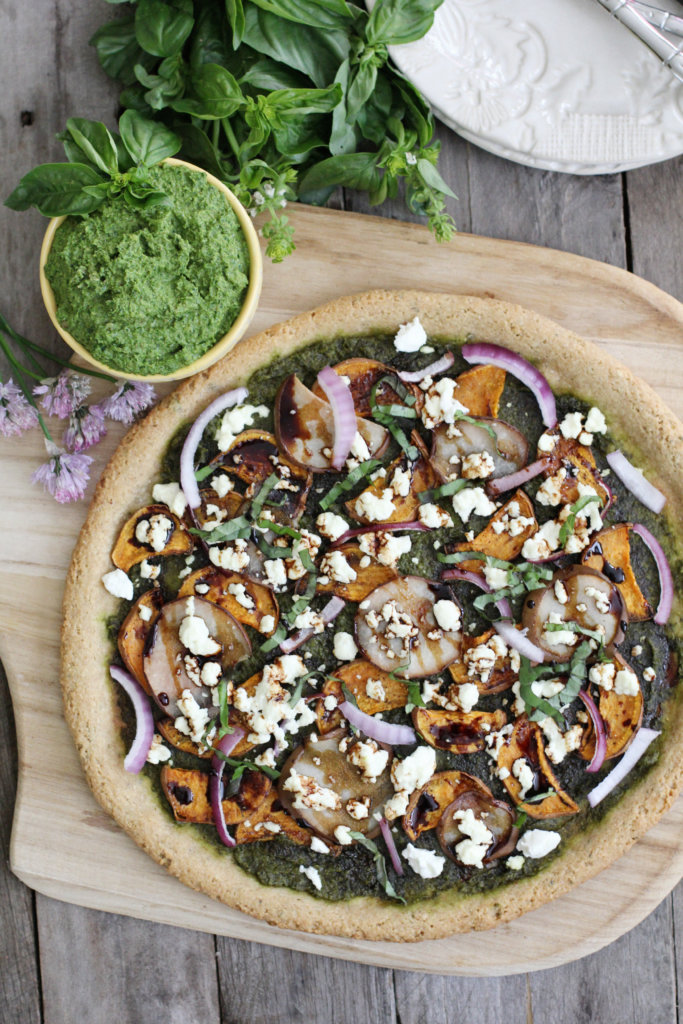 Print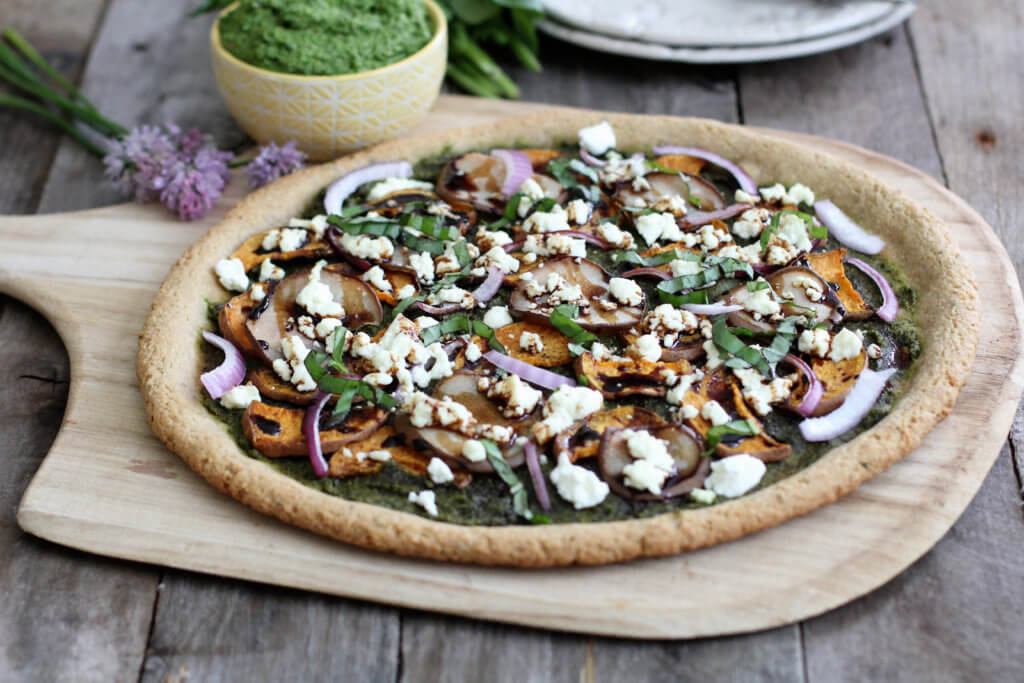 Simple Mills Grain Free Kale Pesto Pizza
Author:

Prep Time:

20

Cook Time:

20

Total Time:

40 minutes

Yield:

1

pizza

1

x
---
Kale Pesto Recipe
1 cup

pecans

4 cups

kale, stems removed

1 cup

basil leaves

3

cloves of garlic

1 tsp

salt

1 tsp

pepper
Zest and juice of 1 lemon

¼ cup

+

2 Tbsp

olive oil
Pizza
1

box Simple Mills Pizza Dough (or crust of choice)

1 cup

kale pesto

¼ cup

sliced red onion

1 cup

roasted sweet potato, thinly sliced

1

red Anjou pear, sliced

3

–

5

oz goat cheese (chevre)

2 Tbsp

Balsamic Reduction (or more to taste)
---
Instructions
Pesto
Put the pecans in the food processor and pulse until fine.
Add the kale, basil and garlic and chop until you have small pieces.
Add the rest of the ingredients and blend until smooth. Add more oil if mixture is too thick.
Pizza
Preheat oven to 350.
Roll the crust out on parchment paper and place on a preheated pizza stone or on a baking sheet.
Bake for about five minutes and then pull the crust out.of the oven.
Spread the pesto on the baked pizza crust. Add the rest of the toppings and bake for another 10-15 minutes.
---
Notes
I chose to not make this pesto super thin so it was not make the pizza to oily. Feel free to add more oil if desired.
---
Keywords: simple mills pizza, simple mills kale pesto pizza
*Disclaimer: I was sent a free pizza crust mix but the opinions in this post are my own.