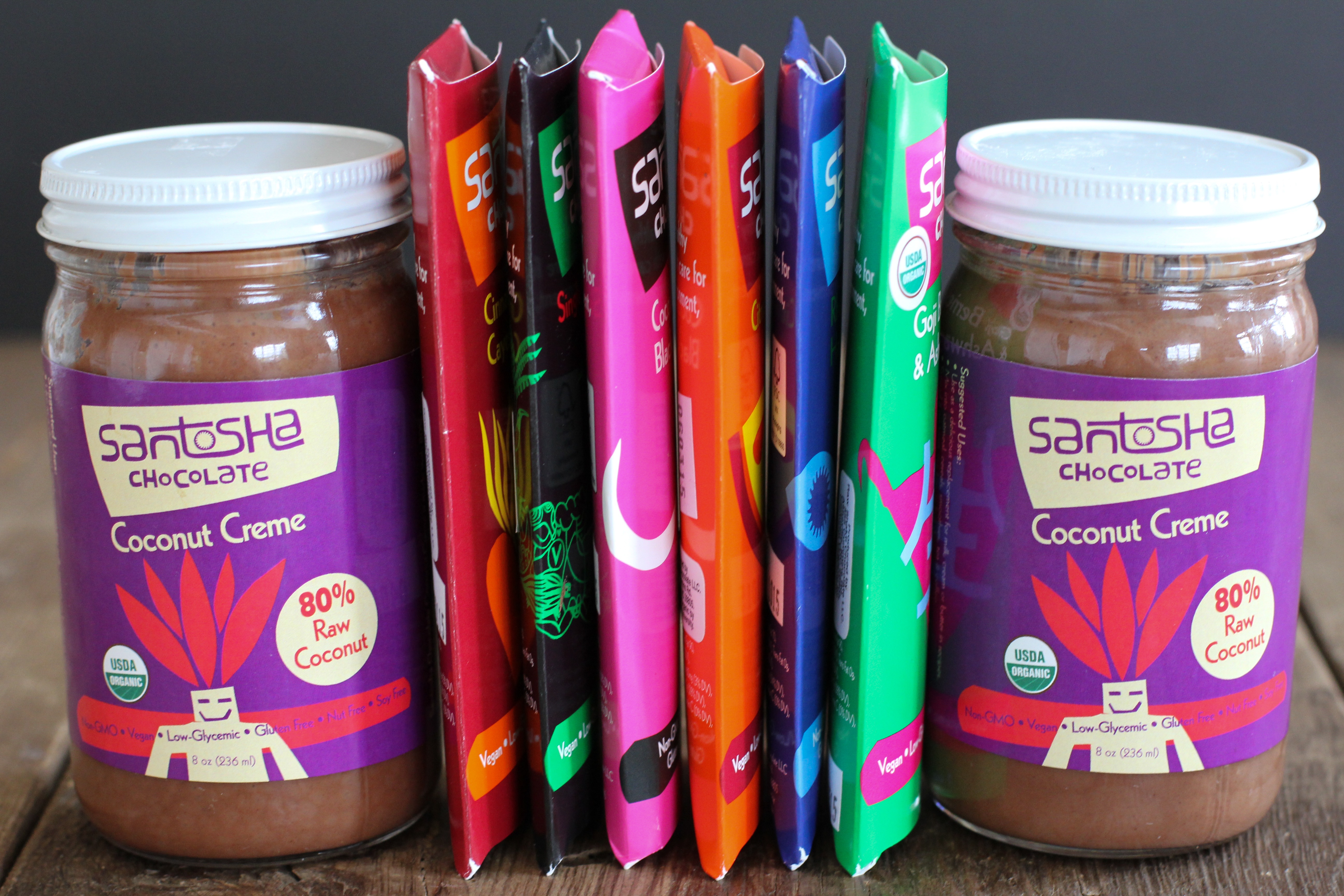 Last week I received a wonderful package filled with some hand-crafted chocolate bars and a newly released, decadent Coconut Creme from Santosha Chocolate Company in Asheville, NC. I stumbled across Santosha chocolate bars at my local Whole Foods about a year ago. They caught my eye because of their colors and some of the unique ingredients listed in their bars. I realized that they were raw cocoa bean bars which are my absolute favorite and very hard to find. I will tell you more about their process later in the post. A couple months after I discovered these bars they had a tasting and I got to try more of the bars and talk with them about their product.
I was not originally planning to post a recipe with the product spotlight but when I saw the jar of chocolate coconut creme I kind of freaked out and knew I HAD to make something with it. So let me tell you more about Santosha Chocolate Company and then I will get to the truffle recipe.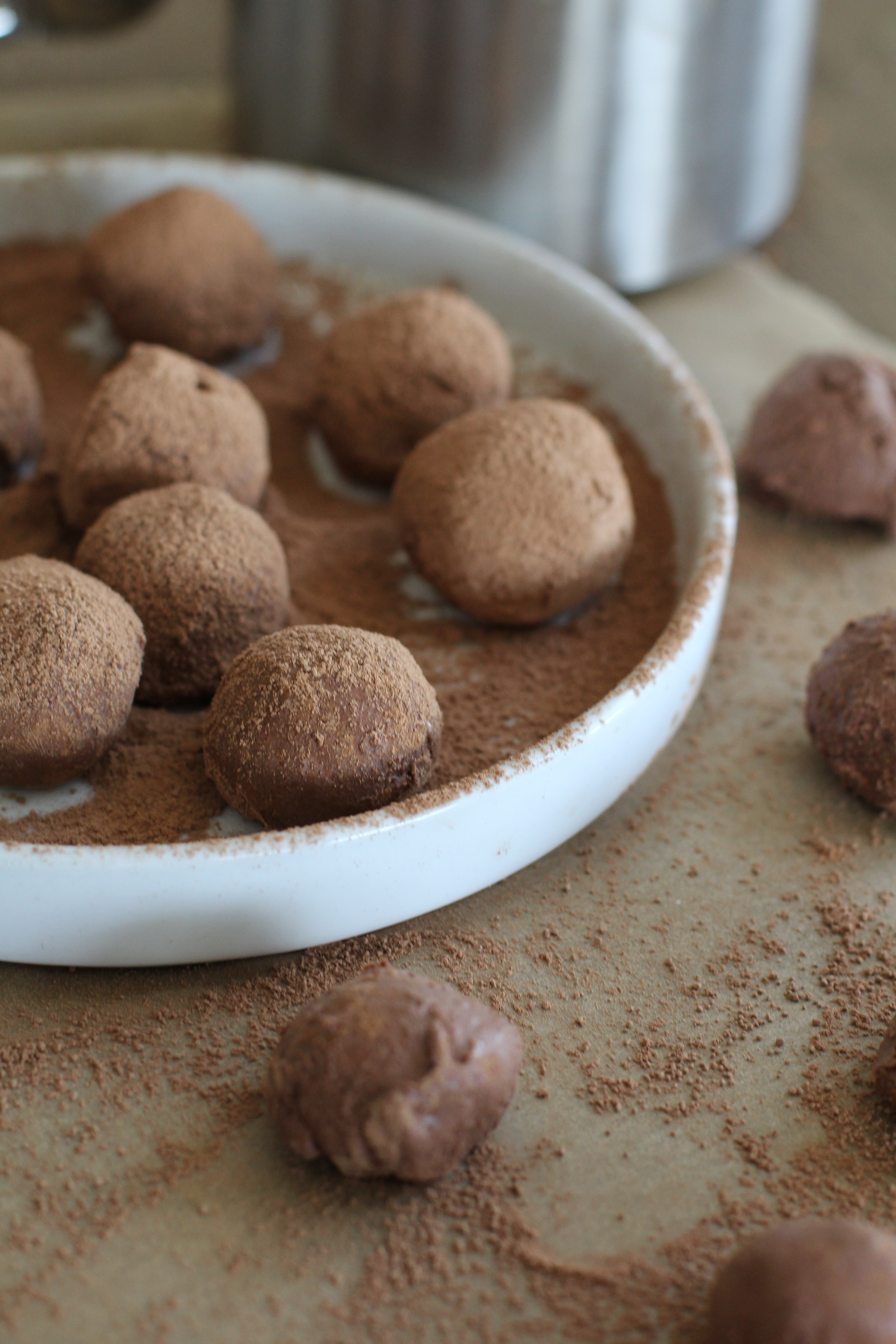 Definition of Santosha: 1. Contentment, not requiring more than you have to achieve contentment. 2. Having peace with what is, in this moment.
Mission: "Crafting a sensual, healthy indulgence, made with care for people and the environment, from bean to bar." Read more about their story and mission here.
Quality: Made from the finest, fair trade, organic, raw cacao beans. They source from a special and limited variety of beans from Peru.
Each bar is sweetened with low-glycemic coconut sugar instead of cane sugar. Each bar is nut, dairy, soy, emulsifier, filler and cacao butter free. It is also vegan and Non-GMO.
Many of the bars contain special herbs, spices, and other super foods which I will list below.
Each bar is hand wrapped with environmentally friendly packaging made from recycled material and printed with vegetable based ink. You can read more about the original artwork on the bars here.
Process: "When cacao beans arrive at Santosha Chocolate, they are hand-sorted, dehydrated at 115 degrees Fahrenheit, and winnowed to remove the bitter hulls. We then stone-grind the cacao for 48 hours at low speeds and temperature (below 115 degrees). This rigorous process ensures that our chocolate has abundant rich, complex and pleasurable flavors, and has superior nutritional properties. After stone-grinding the cacao, we add the herbs, fruits and/or spices, properly temper the chocolate, carefully pour it in molds, and wrap each bar by hand." Learn more here.
Flavors:
Single Origin Peru, Rhodiola & Hawaiian Red Salt, Gogi Berries, Ginger & Ashwagandha Root, Coconut & Black Lava Salt, Citrus & Maca, and Cinnamon, Cayenne and Maca. Full product list here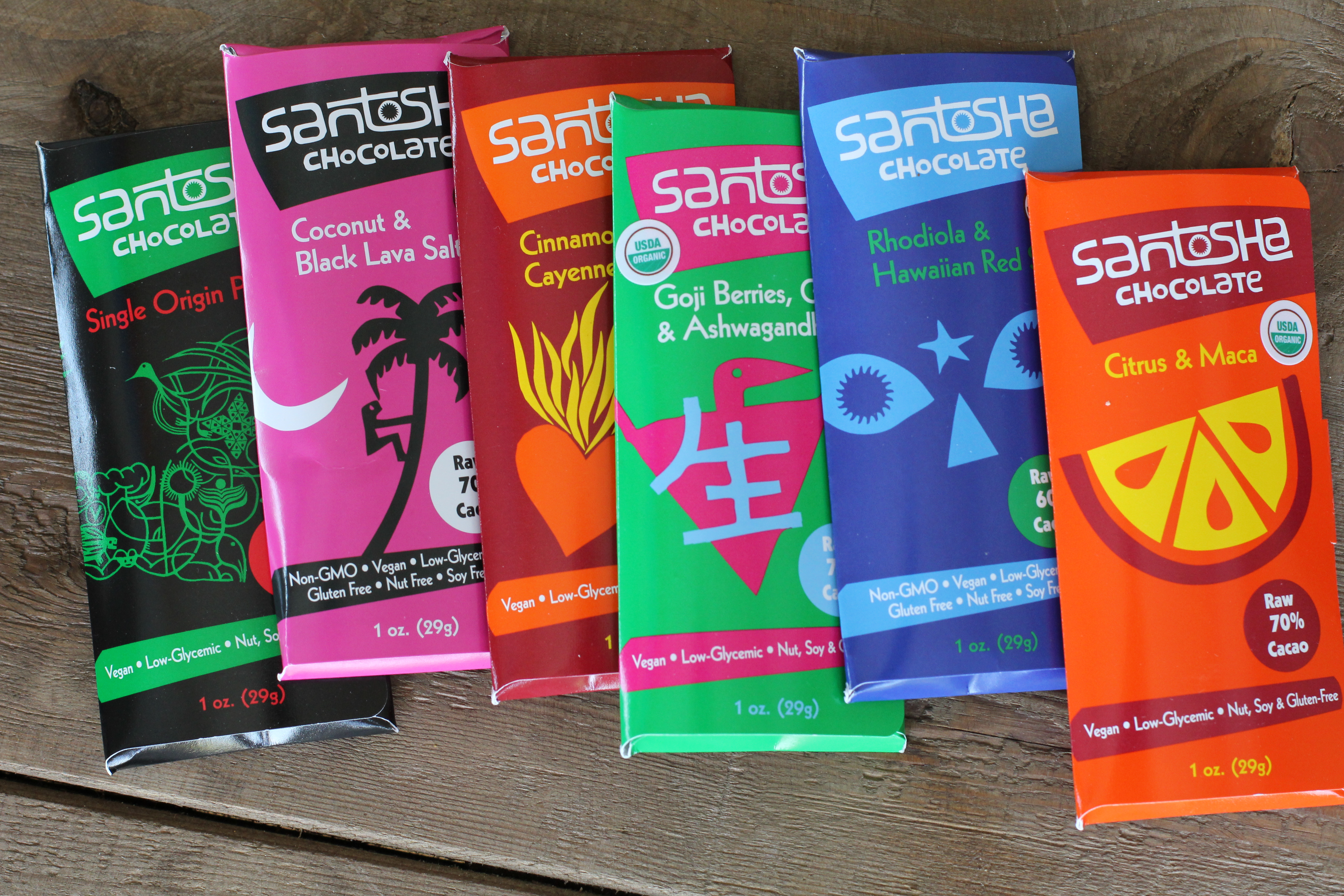 Health, Herbs, and Spices: Click the link to read more about each product.
*Note: These statements have not been evaluated by the FDA. This product is not intended to diagnose, treat, cure or prevent any disease.
Raw Cacao: Abundant in vitamins and minerals such as; iron, calcium, potassium, zinc, phosphorus, A, B1, C, D, and E. It also contains large amount of living enzyme and is a high source of magnesium. It is also a high source of antioxidant flavonoids. Learn more here.
Other Ingredients used:
My Thoughts:
A couple of years ago in one of my college writing courses my professor gave me the option of choosing any topic I wanted for my final paper; I decided to write on chocolate. Food has always interested me and I like to understand why I eat the food that I do. So I spent time studying Cocoa beans, fermenting, roasting, processing etc. Then I studied the actually chemical structure of chocolate, flavonoid properties, vitamins, minerals etc. It was extremely fascinating as I read one scientific study after another. I looked at chemical structures and pulled out my old chemistry notes to try and understand the scientific properties of chocolate and why manufacturing changed its properties.
The more I learned about chocolate the more I loved it. I started to understand what makes one bar of chocolate better than another. I have always been a chocolate snob but never really knew WHY. I am that person who sees a great looking recipe but if the originator of it recommends Dutch processed chocolate, Hershey's or Nestle than I am not making it. Maybe a little extreme, but if you are going to eat chocolate than you need to eat GOOD chocolate.
Anyway, back to Santosha bars. I was really drawn to these bars because of their process of making chocolate and the desire they have to preserve what makes chocolate healthy. I also admire their use of herbs and spices. If you've never had bars made like this then it might be a little bit of a surprise at first. You take a bite and you get a punch of cacao and then all of a sudden the complexity of flavors starts to expand on your tongue and you realize that this is not your average chocolate bar. The flavor of the bean just continues to unfold and your senses try and distinguish all of the complexity. Honestly, that is what I believe makes chocolate great and that is what distinguishes companies like Santosha from so many others. Chocolate is meant to be so much more than a sugary candy bar. You should be able to taste the cocoa bean and the difference between varieties.
Ok. Now that I talked about the chocolate bars I will get to the recipe part and talk about this coconut creme. I don't really know if I have words for this stuff. When I saw the jar the first thing I thought was, "BRILLIANT!" Then I tried it and thought, "magical". In all seriousness, this was an epic idea. The best way I can describe it is – coconut butter that is slightly sweetened and mixed with cacao powder. I tried it blended in coffee, ate it straight from the spoon, my sister put it on pancakes and with each try the creme surpassed my expectations. So then I decided to make truffles with it.
These truffles are very easy to make and extremely smooth and decadent. It just contains the coconut crème, coconut milk and melted Santosha bars. I decided to mix the 80% Single Origin Peru bar and the Rhodiola, Hawaiian Red Salt because I really like those two and I thought they would pair great….they definitely did! I let the mixture sit over night until it was hard and then I rolled them and tossed them in raw cacao powder. They were creamy, rich, decadent and complex. I passed them around to family members and co-workers and everyone loved them!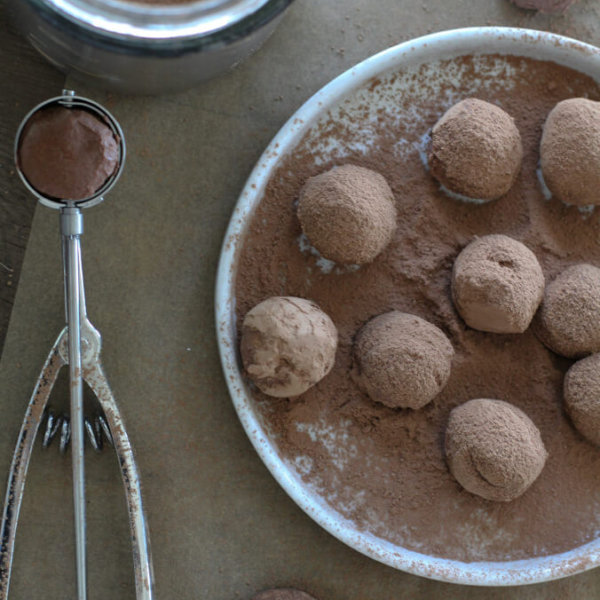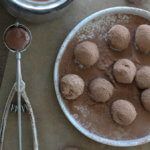 Santosha Chocolate Truffles
Author:

Prep Time:

10

Total Time:

720

Yield:

2

0

1

x
---
¾ cup

coconut milk

3

Tbls coconut creme spread

2 ounces

santosha chocolate bars of choice
Cacao powder for rolling
---
Instructions
Heat a pot with water (does not need to boil-just warm enough to melt chocolate) and place a glass bowl or double boiler over the hot water. Be sure to not get any water in the bowl.
Place the milk, coconut creme and chocolate in the bowl and melt. Stir the mixture frequently until melted and smooth. Take off the heat and cover.
Place in the refrigerator overnight.
Using a small ice cream scoop or spoon scoop out the mixture and roll the truffle base and toss in cacao powder. Eat right away or store in the refrigerator.
---
Notes
Truffle base is very soft and will melt easily. Try to avoid touching it with your hands too much.