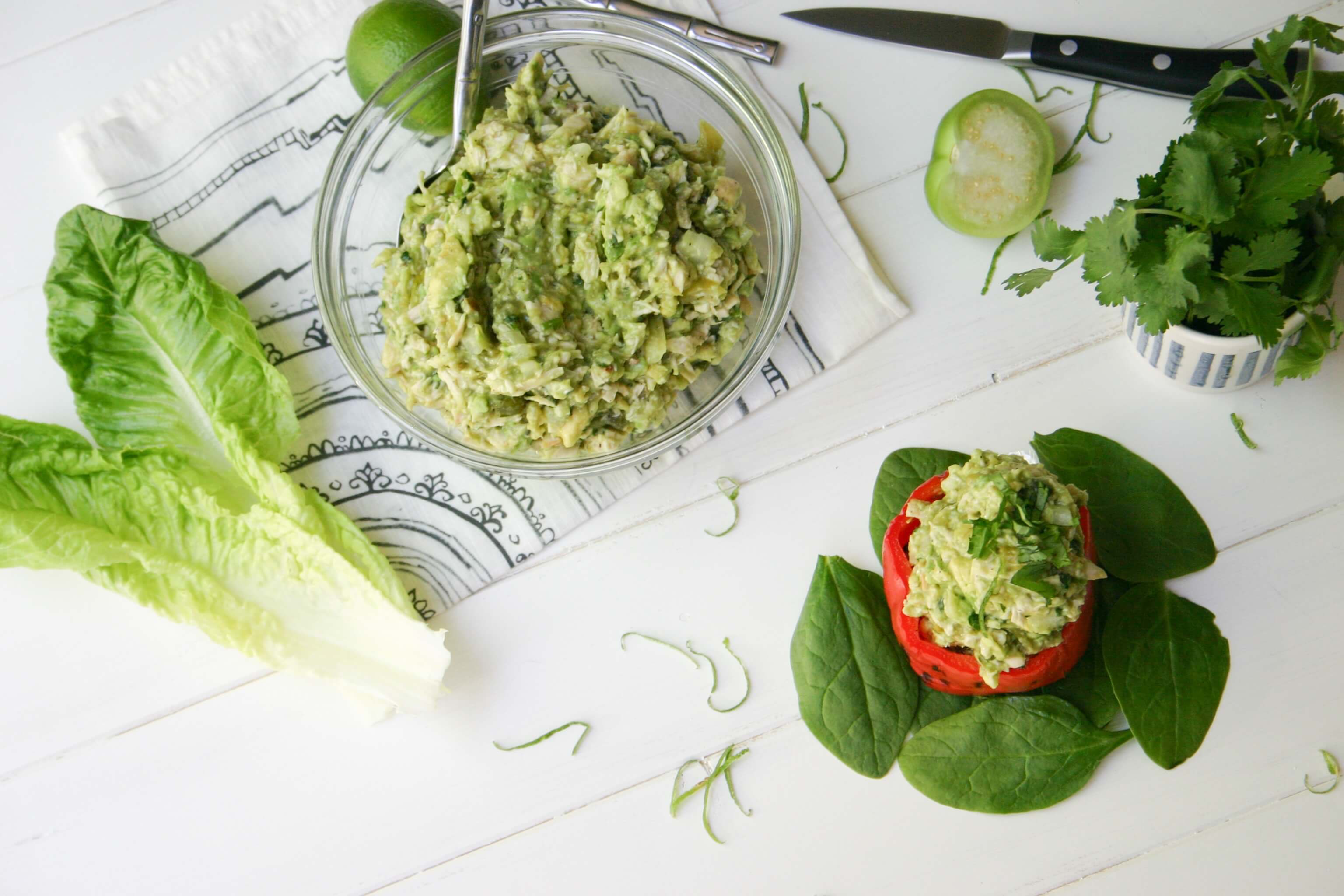 I realize that it is rather ironic that I am posting this recipe the day AFTER Cinco de Mayo but that is just the way things worked out. We also decided to postpone celebrating Cinco de Mayo in our house because we are still on that sugar detox and I refused to participate without a margarita. So last night we had cauliflower fried rice and Asian meatballs instead and I pretended the party at the Mexican restaurant, walking distance from our house, was not happening. Next time I do a detox I will take a look at my calendar…..
I've actually been really excited about this recipe and have wanted to make it for the past week but it seemed like my avocados decided to take an eternity and a half to ripen so I waited patiently (not really). I actually tried like 4 different stores for ripe avocados and nobody seemed to have any. Thanks a lot Cinco de Mayo! Anyway, this recipe was inspired by one of my favorite guacamole recipes that uses grilled tomatillos and ramps (onions) in it. It is from a book written by Rick Bayless for his restaurant Frontera Grill located in Chicago. My husband and I got to go there last year and it was hands down one of the best restaurants I have ever been to. The food, experience, the drinks, and our waiter were all amazing. Our waiter actually made my mouth water when he was describing the meals and that to me is a sign of a great culinary experience. A couple months later we ended up buying the margarita, guacamole and snacks book. It is actually a great read if you love this type of flavor profile. It is super interesting, educational and informative.
Avocado chicken salads are pretty popular for those who want a non-mayonnaise based recipe. I personally really enjoy it with avocado and wanted to kick it up a notch with the flavor. If you have read my previous post with the creamy tomatillo sauce then you know how much I love the tomatillo and it really shines in this salad. I will spare you all my detailed description of it again. I cook almost everything in this recipe on my grill because I love the smoky profile that it gives but you can also do it all in the oven. This salad has a mixture of sweet, savory, smoky and spicy and is seriously satisfying (Wow! that is a lot of S's in once sentence) . I personally roasted some red peppers for little bowls to hold the chicken salad but it would also be great on some lettuce wraps or a bun! Enjoy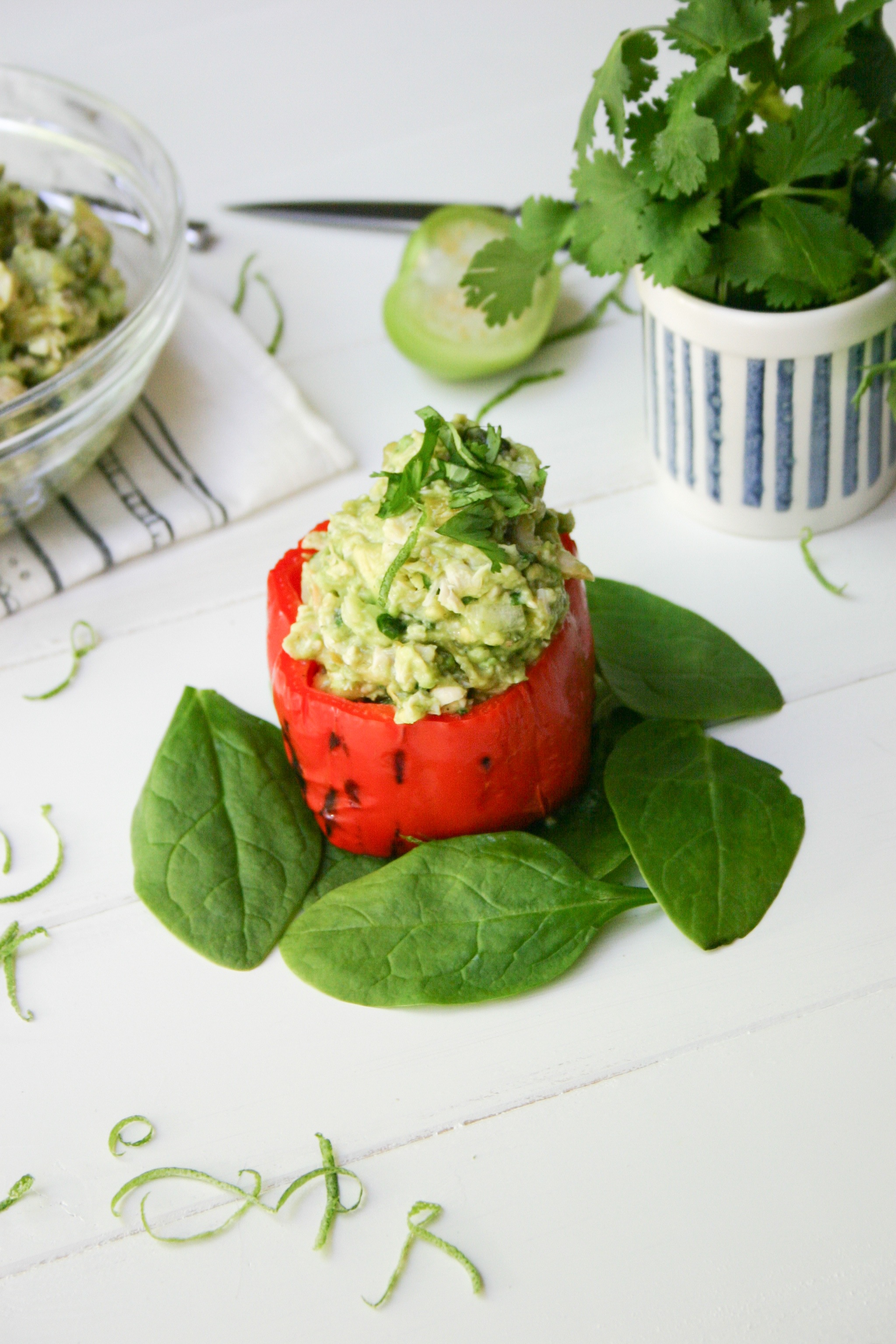 Print Roasted Tomatillo Avocado Chicken Salad
Author:

Prep Time:

10

Cook Time:

20

Total Time:

30
---
Filling
3

medium sized tomatillos –husked

1

large jalapeno

3

green onions

½ cup

cilantro

¼ cup

diced onion

½ tsp

salt/pepper
Juice of

1

lime

2

large avocados or

3

small
---
Instructions
Run the tomatillos under cold water and remove the husks. Take the jalapeno, green onion and tomatillo and brush with olive oil and set aside
Remove your pound of chicken from the refrigerator and brush with olive oil, salt, pepper and garlic. Set aside.
Heat your grill or oven to 450 degrees (I prefer grill for the smoky flavor).
Once the grill or oven is preheated place the chicken and all the veggies on it.
Cook the chicken about 6 minutes a side and then temp it. You want to take it off around 160 degrees because as it rests it will go up a few degrees.
The tomatillos and jalapeno will take about 3-5 minutes a side. Tomatoes will be soft but not falling apart.
The green onions will cook very quickly and will only take about 1 minute a side
Pull each item off the grill when done (they will all be done at different times) and let it cool. Cover the chicken with aluminum foil and let it sweat for about 10 minutes. Then shred it in to small pieces.
Chop the tomatoes, green onion and jalapeno (deseed it first). Add all this to a bowl with the shredded chicken, diced onion, cilantro and lime. Mix thoroughly
Once cooled add the mashed avocado and mix thoroughly. Serve immediately in the red pepper bowls or place in the refrigerator.
---
Notes
If your avocados are small you will need more than two.
If you are in a hurry a cooked rotisserie chicken from the store will also work and you can skip the grilled chicken steps.
---