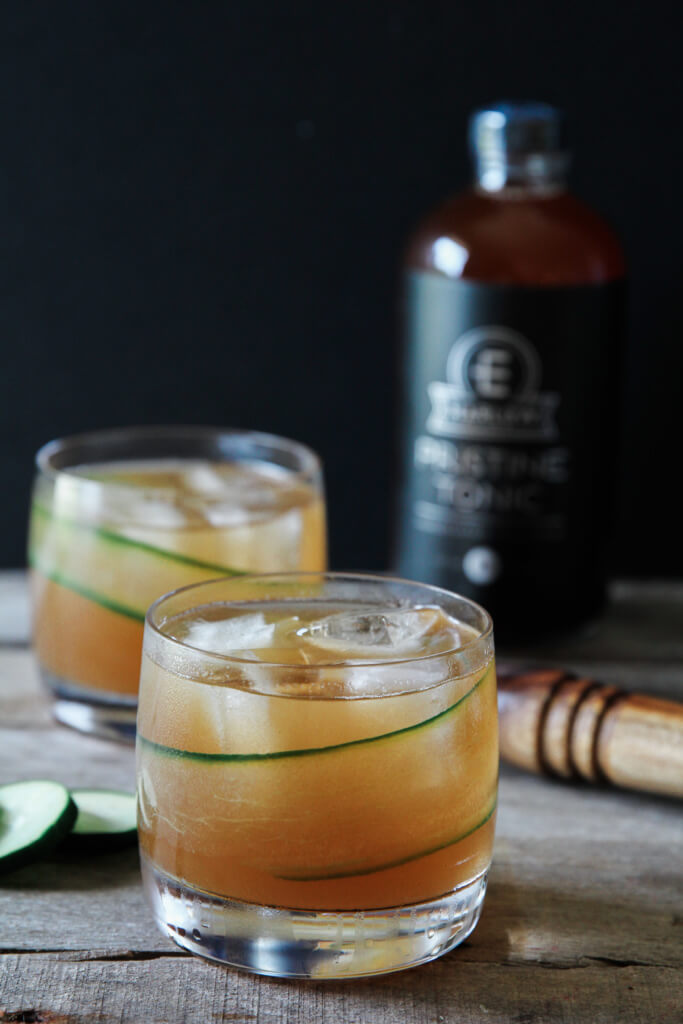 Cucumber Gin and Tonics is what is happening for our 4th of July weekend. I have a little bonus recipe this week because sometimes I get too excited to share something and don't want to stick to my scheduled calendar. Lets be honest, I run this thing so I can really change it up as much as I want.
This cucumber gin and tonic is really the easiest recipe I have ever posted on here. I almost feel bad calling it a recipe. I kind of consider this drink a celebration of Nashville in the summer. E Harlow Pristine Tonic by Pour Taste and Bloomsbury Farm cucumbers.
We are currently getting a lot of amazing cucumbers in our CSA and the flavor is absolutely perfect. The produce you get in your CSA is not just for making lots of salads. You can actually do a lot of really fun stuff with your CSA or your trip's to the farmer's market. The best ideas and recipes just come from having the best ingredients that are in season and also tasting them and really thinking about their flavor profile.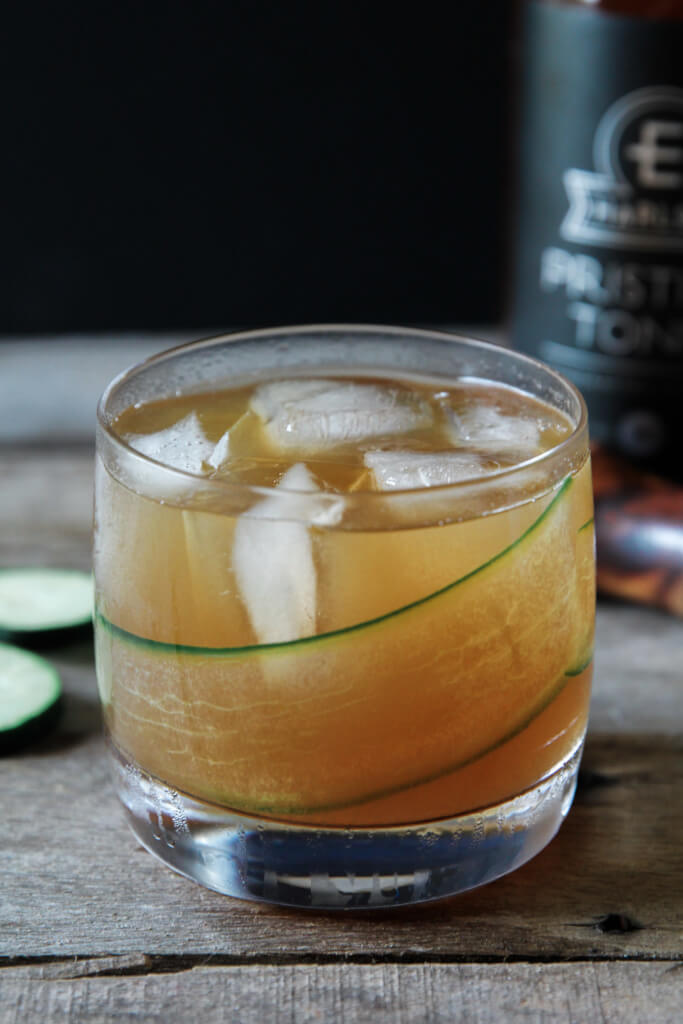 Anyway, back to the cocktail because this is pretty much my favorite topic. I am sure MANY of you reading this have had a gin and tonic before. I remember my first gin and tonic. It was over at a friend's house and he made one with gin, lime and Canada Dry tonic water. Guess what…..I thought it was like the best drink ever and now I am sitting here thinking…..GROSS! Also, that was like 5 years ago.
A little over a year ago my brother came over with a traditional homemade tonic syrup and he wanted to make me and my husband a drink. I remember asking him, "are you sure that is right? It is brown!"
Well…this tonic is brown and it is supposed to be and it is incredible. We are lucky enough to have this made locally in Nashville by John and Lindsey Yeager who are the owners of Pour Taste and the genius behind many of the amazing cocktail menus here.
This tonic has a lot more complexity in flavor with components like Cinchona bark, lemongrass, lemon, lime etc. It isn't just sugar water. It has a ton of flavor and components that pair perfectly with gin.
This E. Harlow Pristine Tonic is something we just always have in our house because it makes a quick refreshing drink and it always something we can serve to guests. This past weekend I decided to take some our Bloomsbury cucumbers and muddle them in to the gin before adding the tonic and it lended the most subtle and refreshing combination. I really love gin and cumber (that's why I have another recipe on the blog with it) and it really paired perfectly with the tonic.
If you live locally I would definitely recommend you pick up a bottle of this E. Harlow Pristine and if you don't live locally you can just order it! Trust me…GAME CHANGER!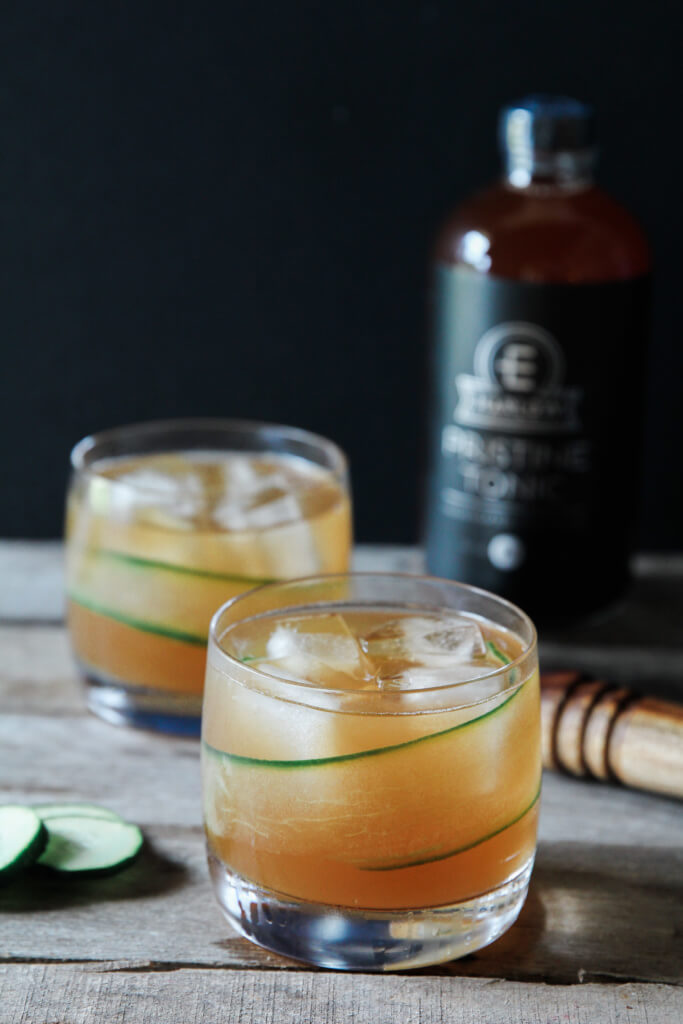 Print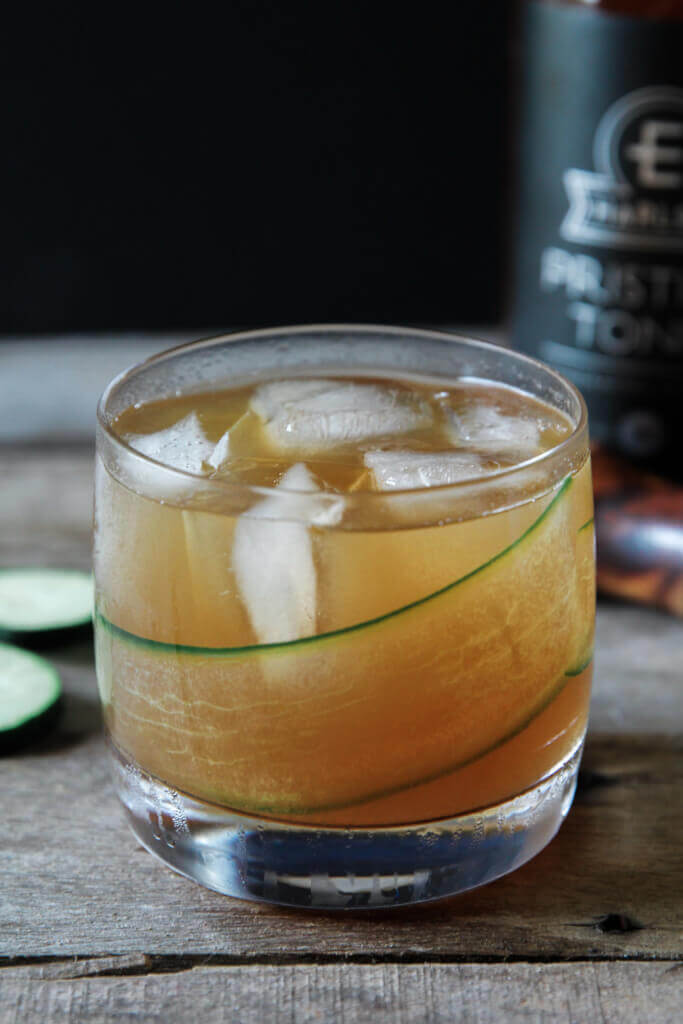 Cucumber Gin and Tonics
Author:

Prep Time:

5

Total Time:

5
---
---
Instructions
Put the cucumber and gin in a mixing glass and muddle the cucumber (about 30 seconds).
Add the tonic and then fill the mixing glass with ice and stir for about 60 seconds or until the drink is cold.
Use a Hawthorne strainer and double strain the drink by having a fine mesh (coco) strainer over your glass.
Top with soda water and enjoy!
---
---