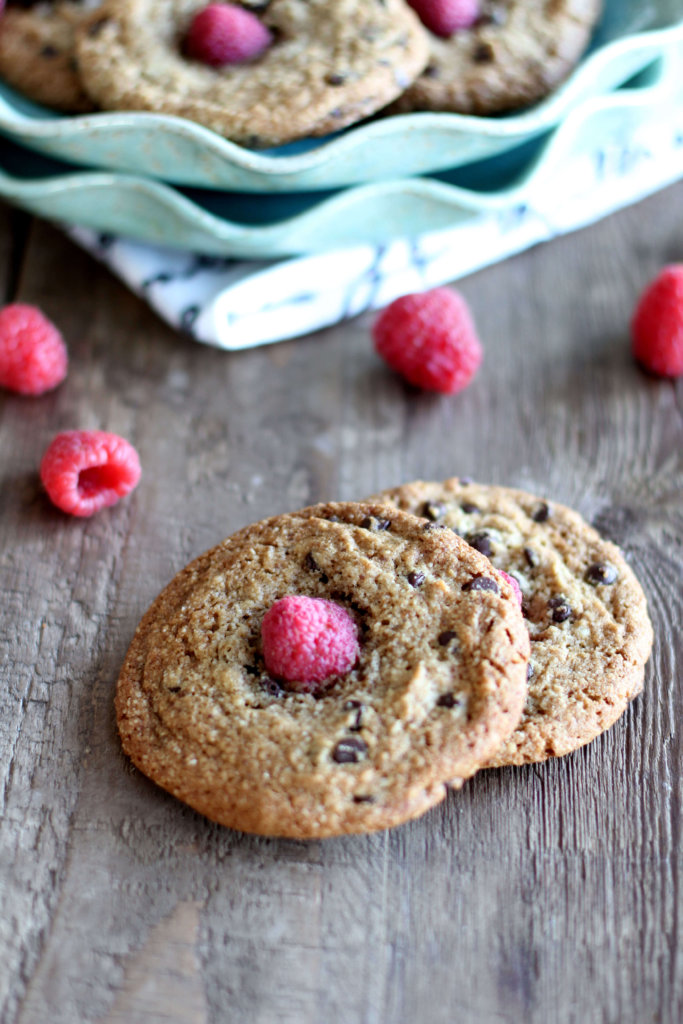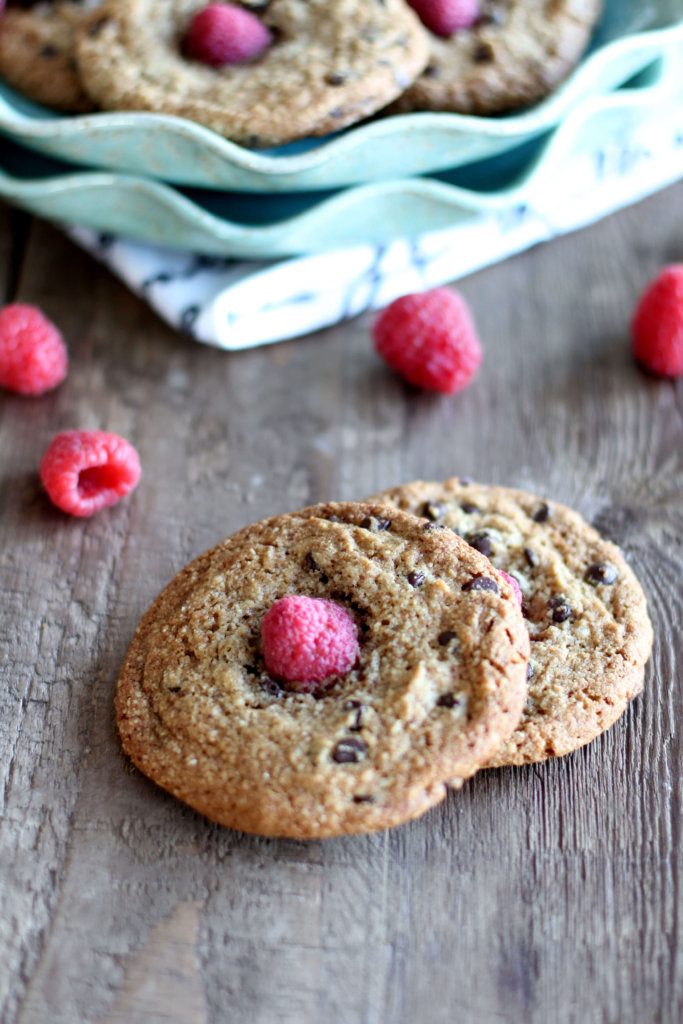 It has been a really interesting week for me and I wasn't sure I would be able to post a recipe but I am so glad I could. Last Wednesday I was woken up around 6 in the morning to an awful smell which turned out to be a skunk living under our HVAC system. It had sprayed directly under it so the smell flooded the vents and every corner of the house. My husband was out of town for work and I had NO idea what to do. I never thought that smell could get in the places that it has. For example, my sealed makeup smells like skunk! I don't even know how that happens. Needless, to say it has been such an insane experience trying to get things cleaned and the house smelling okay. I know years from now this will be the best dinner party story ever and we will laugh about it a lot. However, I am still on the crying side of things. Speaking of dinner party….I have exciting news that I will share at the bottom of this post!
On top of the whole skunk debacle I got sick….so I have been kind of MIA with the blog and other projects. I was really happy I got some time to work on a recipe. I think with all the Valentine recipes filling my feed these days I have been craving raspberry and chocolate. So I decided to combine the two in one scrumptious cookie. One thing I really like about putting the raspberry in the middle to cook is that you get just enough raspberry taste without overwhelming the cookie. You could totally leave the raspberry off if you want because the cookie is darn good by itself. I recommend you go home and make sure a skunk hasn't dug a whole under your HVAC and then make a batch of cookies to get you through the week!
Enjoy!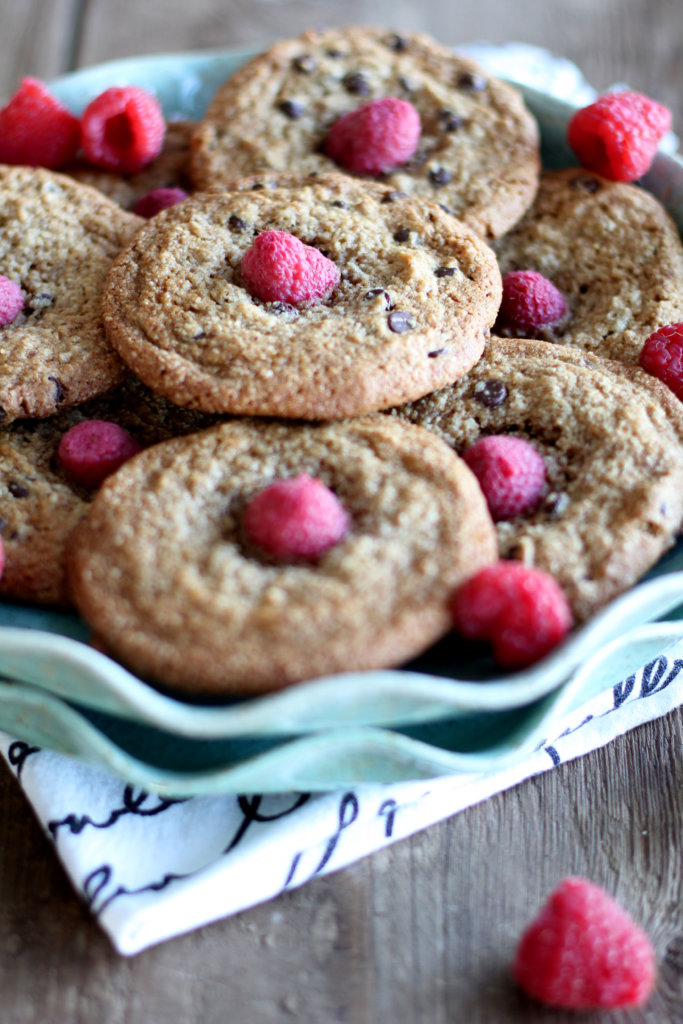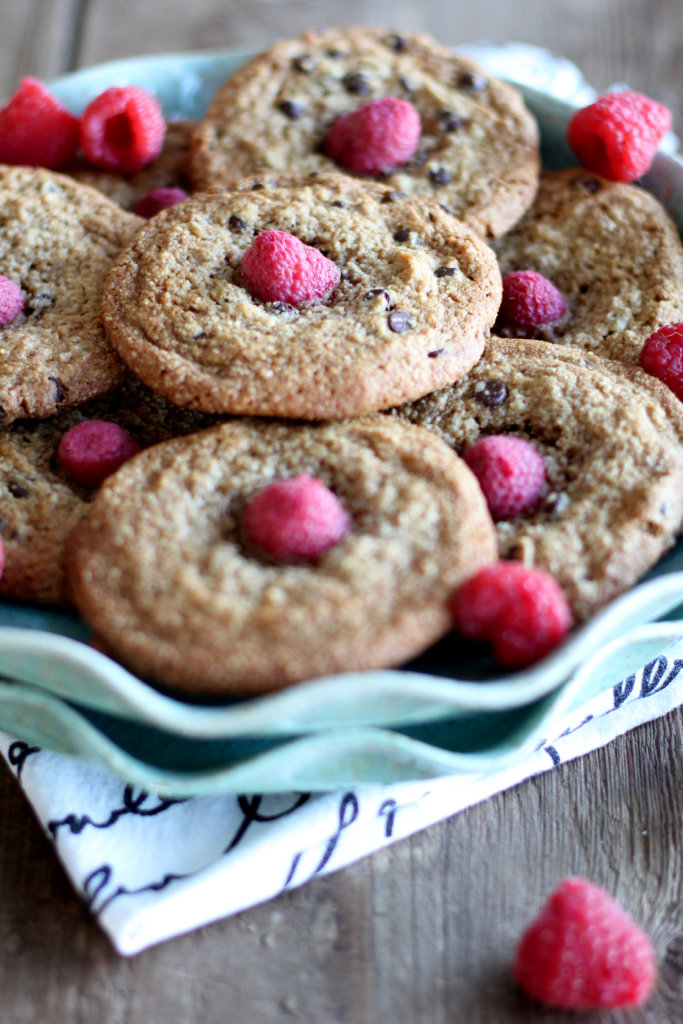 Print
Chocolate Chip Raspberry Cookies
Author:

Prep Time:

15

Cook Time:

12

Total Time:

27 minutes

Yield:

2

0

1

x
---
---
Instructions
Preheat oven to 350.
Place the shortening and sugar in a mixing bowl and beat thoroughly with a stand or hand mixer. The mixture should be creamed and fluffy.
Add the egg, egg yolk, and vanilla and mix until combined.
Add the baking soda, salt, almond flour and mix. Add chocolate chips.
Use an ice scream scoop to get a heaping tablespoon of batter. Press the scoop against the side of the bowl to flatten the dough and then place it on the baking sheet.
Take one raspberry and press the bottom of it in to the middle of the dough ball.
Bake them for approximately 12 minutes or until edges are slightly browned. Let cool on baking sheet for 2-3 minutes and then transfer to a wire rack.
---
Notes
No need to put the raspberry if you don't like them! This is a great basic chocolate chip cookie recipe!
I have a special dinner party project coming to the blog soon and I could not be more EXCITED about it! For some time I have wanted to plan a dinner party. Thanks to a friend of mine who is a very talented photographer I was able to do that a couple weeks ago. I can't wait to share the recipes and rest of the pictures with you. I will have updates on Instagram so be sure to follow me!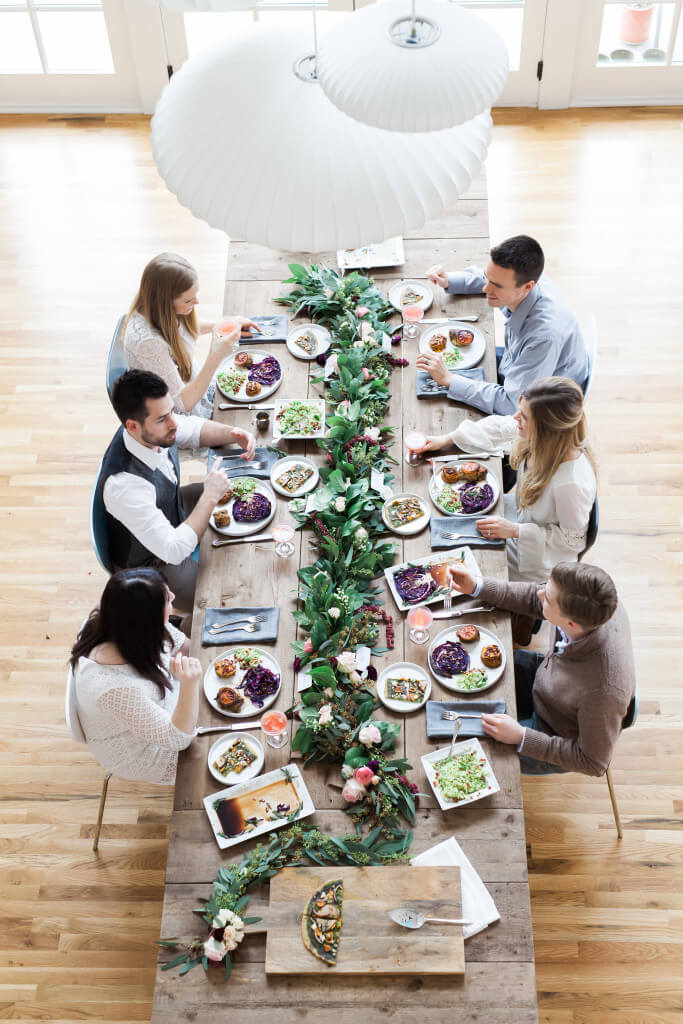 Image by: Redeeming Love Photography