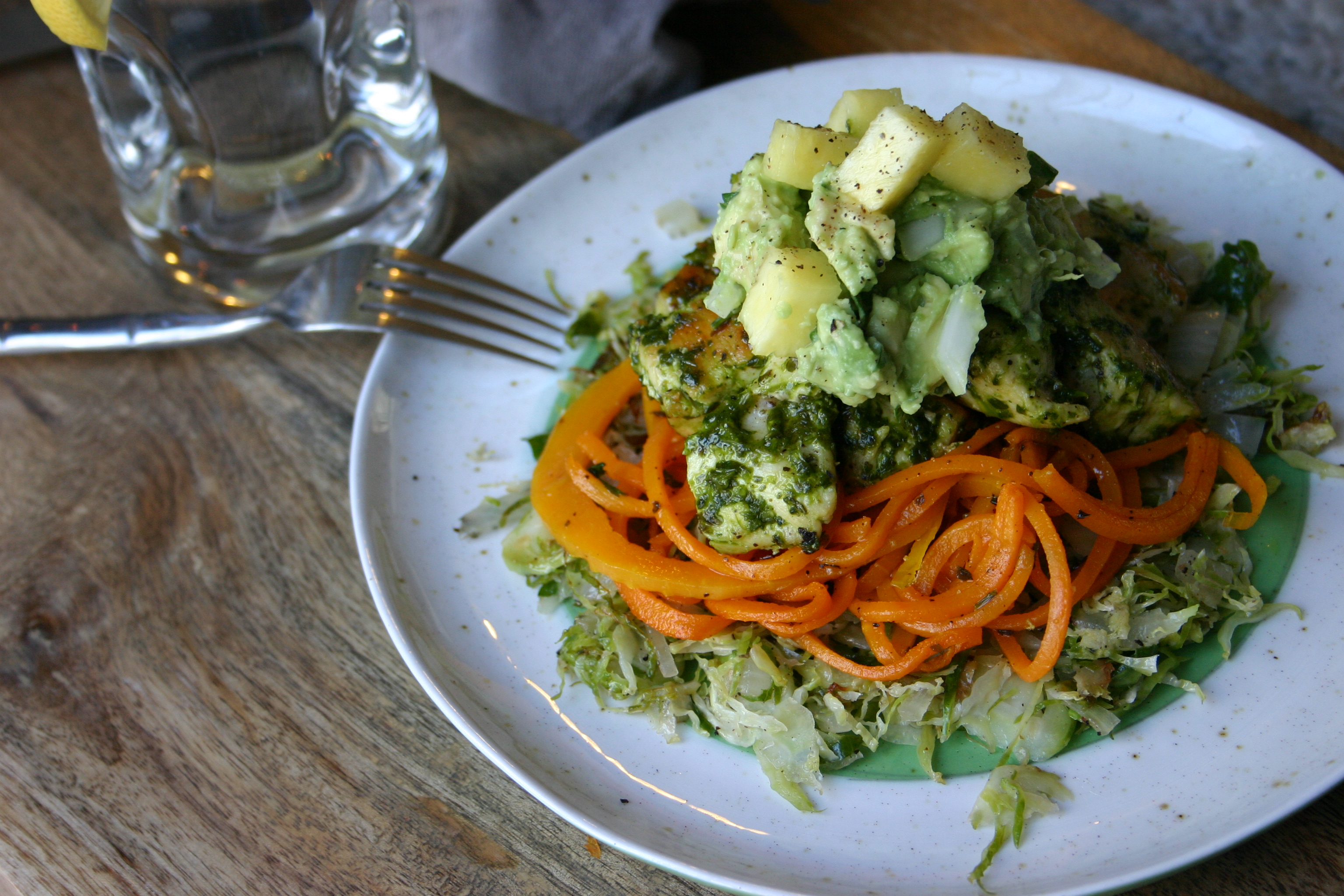 Let's talk about a Spiralizer! I love this kitchen gadget! I got one for Christmas and I can't even count how many times I have used it in the past few weeks. This is seriously a great addition to your kitchen if you are someone who eats a lot of vegetables. Paderno World Cuisine sells it on Amazon for about $30. You can make zucchini noodles, butternut squash noodles, curly fries etc.
This recipe was born out of wanting to use the spiralizer and trying to use up stuff I had in my refrigerator. There are some weeks where I plan out exactly what I am going to make and what night I am going to have it. Lately, I have just been buying a bunch of vegetables and a bunch of meat and throwing stuff together. For the most part – I find that very enjoyable. It challenges me to be creative and at the end of the day I find that it is a stress reliever for me. The downside is that it usually takes me twice as long to cook dinner.
This dish has some really nice flavor components. I personally love cilantro. It is my favorite herb by far. In this pesto recipe you will want to use the stems and the leaves. The stems of the cilantro actually have more flavor than the leaves. The stems are a great addition to dressings and marinades. I do something a little bit nontraditional with the pesto recipe by adding spinach to it. I started doing this a while back when I would make basil pesto and run out of basil before I had enough pesto to put on my dish. Not only do the greens help your pesto go farther but they also add more nutrients to your meal. Personally, I really prefer it with extra greens. I will use kale, swiss chard or any other greens I have in the house.
The Brussels sprouts I like to shave thinly. You can do this with a knife or a mandolin slicer if you have one. I think that when sautéed it brings out a caramelized flavor instead of the bitter flavor it tends to have. If you don't like Brussels sprouts than you can easily substitute for cabbage, kale or your favorite green.
Now this recipe has several different components to it. I realize that it could make preparing dinner a long event. However, most of these things can be made ahead if you are short on time. You can chop the vegetables, make the pesto, spiral or chop the butternut squash… any of those things can be done the day before.
Lastly, I do realize not everyone has a spiral vegetable slicer. If you have a food processor you can put the squash through the grate attachment. You can slice the squash, julienne them….really whatever you have access to!
Print Cilantro Pesto Chicken with Butternut Squash Noodles
Author:

Prep Time:

20

Cook Time:

35

Total Time:

55
---
Chicken
2

–

3

Chicken breast cut in to 1 inch cubes (I used about 2lbs)

¼ tsp

dried oregano
Salt/pepper to taste
Butternut Squash Noodles
1

2-3 lb butternut squash (You will be using the top/skinny part only)

1 Tablespoon

chopped fresh cilantro

¼ tsp

dried oregano
Salt/pepper to taste

1

–

2

Tablespoon coconut or olive oil
Brussels sprouts
10

–

15

Brussels sprouts (

2 ½ cups

thinly sliced)

1 cup

diced onion
Salt/pepper to taste
Pesto
1 cup

packed spinach

2 cups

packed cilantro (stems and leaves)

1

garlic clove

1 tsp

raw honey

2 Tablespoons

lemon juice

¼ tsp

dried oregano
Salt/pepper to taste
Toppings
Guacamole
Diced pineapple
---
Instructions
Preheat the oven to 375. While the oven is preheating take the butternut squash and cut of the "neck" and leave the bottom bulb.
Peal the neck of the squash and then cut in half so it can fit in the spiralizer. Use the smallest noodle attachment and run the squash through.
Toss the squash noodles in some oil (I prefer coconut) and sprinkle with the salt, pepper, oregano, and fresh cilantro.
Place the noodles on the pan and roast for about 15 minutes.
While the squash is cooking slice up your brussel sprouts and chop the onion.
Heat a pan on medium-high heat and sauté them until onions are translucent and the greens are tender. It should take about 5-8 minutes.
Pull out another fry pan and heat some oil on medium high heat. While the oil is heating up take the chicken breast and cube in to bite size/ 1 inch pieces.
Sprinkle the chicken with salt, pepper and oregano. Place the chicken in the pan and cook on both sides until done.
While the chicken is cooking combine all of your pesto ingredients in to a blender or food processor and puree until it resemble a dressing/pesto consistency.
Once everything is finished layer your plate with the brussel sprouts, squash noodles and chicken. Add the guacamole and pineapple toppings if desired!
---
---