It is a New Year and my first blog post. New Year's resolution…maybe?!
I created this blog a couple months ago to motivate me to actually document food I make at home. My family has been telling me to do it for years and I never have. Now that I am out of school and working a 9-5 job I find that I need a creative outlet and something to challenge me. So – here it is! My very first blog post with my very first recipe.
I found it extremely intimidating to post a recipe. Everything I made was not creative enough or my pictures were not up to par. Each and every time I found something that was wrong with my recipe and a reason to not post it. I guess it was my fear of blogging and what people will think of my posts etc. As the New Year approached me I thought about 2014 and expectations I had for it. I kind of deemed this year to be my year of "health." Not that I have always been super unhealthy but realizing that in order to live a normal life with an autoimmune disorder that I would need to make some major lifestyle changes. My diet is pretty limited at this point but I still have a love for cooking. It's my therapy and creative outlet. The kitchen is my easel. Documenting what I cook is a way for me to make it fun again. At the same time I also really hope that someone can benefit from it.
Since starting my "diet" I have found that I REALLY don't want a salad. I think since I eat so many vegetables right now anyway that a salad just seems super boring to me. The entire time I eat a salad I will complain about chewing on grass (just ask my husband). I got my food sensitivity test back last week and on my way to get it I kept thinking, "I really hope I am sensitive to lettuce." I really don't mean it….I just currently have an aversion to it.
I made the mistake of having dairy on New Years and paid the consequences. I was miserable for about 3 days. Since I wasn't feeling well I wanted something light to eat – but not a salad. So this is what I came up with – a warm winter "salad."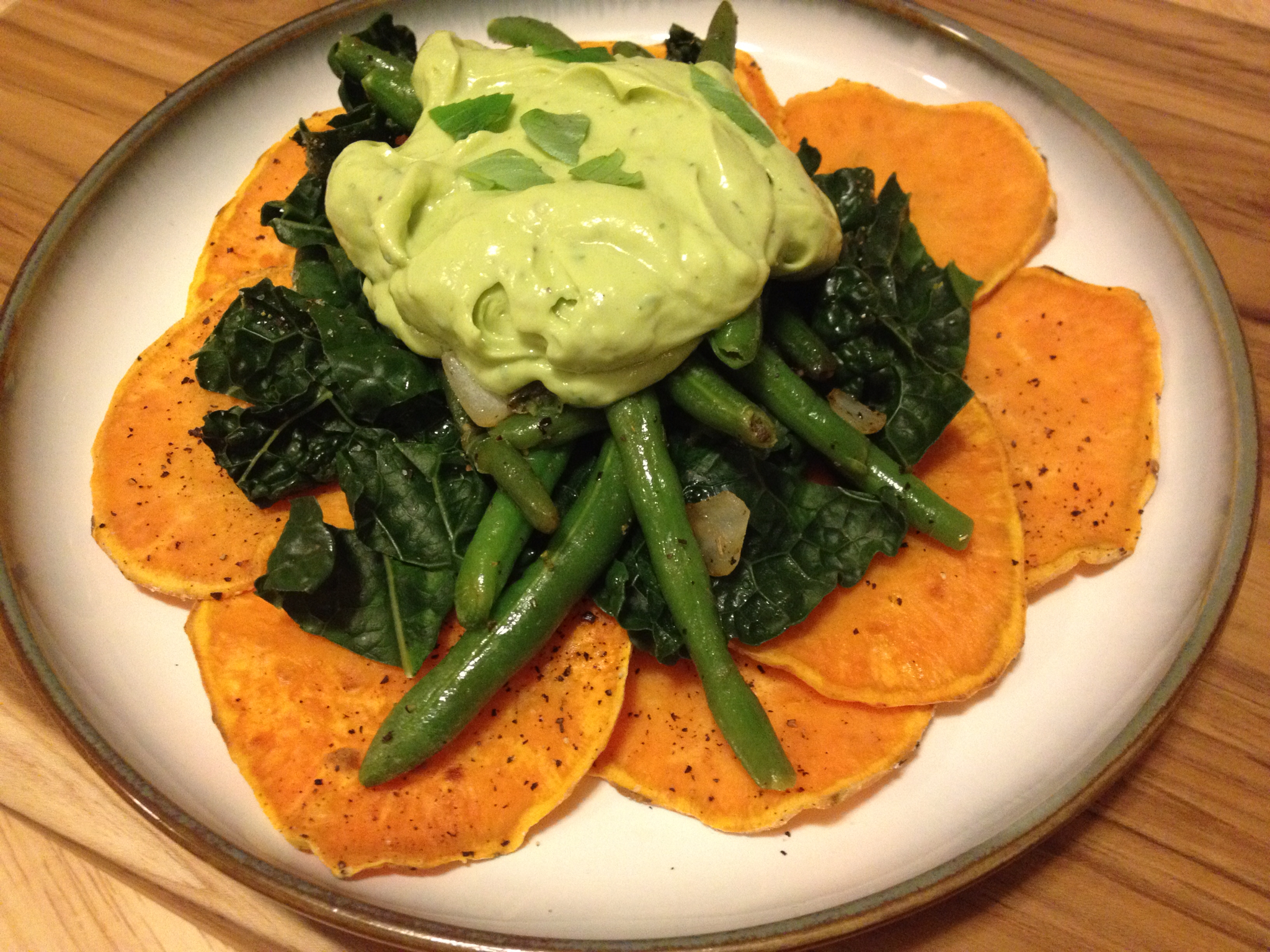 Servings 2
Salad Ingredients
1 small sweet potato or 1/2 a large one cut 1/2 inch thick
1 cup chopped kale
1/4 diced onion
1 cup green beans
Dressing
1 tablespoon chopped basil
1 garlic Clove
1 large avocado or 2 small ones
2 tsp Dijon
3 tablespoon lemon
1/4 cup olive oil
Salt/Pepper to taste
Preheat oven to 475. Cut one small sweet potato or half of a large one into ½ inch thick slices (You can make them t thicker if you prefer). I used a mandolin but a knife works too. Throw them on a baking sheet and toss with salt, pepper and coconut or olive oil. Roast for about 10-15 minutes. Depending on your thickness it could take longer. You want them to start to get crispy around the edges but still soft in the middle. If they start to get too dark then your oven temperature might be too high.
Meanwhile heat up another skillet with oil and throw in your onion and green beans (salt and pepper to taste). Sautee until green beans are softened and onions are opaque. Turn off heat and set aside until other components are finished.
Chop up kale and steam it for about five minutes or until leaves are slightly tender.
Lastly, throw all of your dressing ingredients in to a food processor or blender. Feel free to add more citrus or spices if it appears bland. Also, more olive oil if it appears too thick. However, avocado makes a pretty thick dressing. It actually has significantly more the flavor the next day. Red pepper flakes would also be a great addition to the dressing. Sadly, they are not included in my diet these days.
Pull your potatoes out of the oven and spread a layer of them on your plate. Top with the kale, green beans, avocado dressing and enjoy!