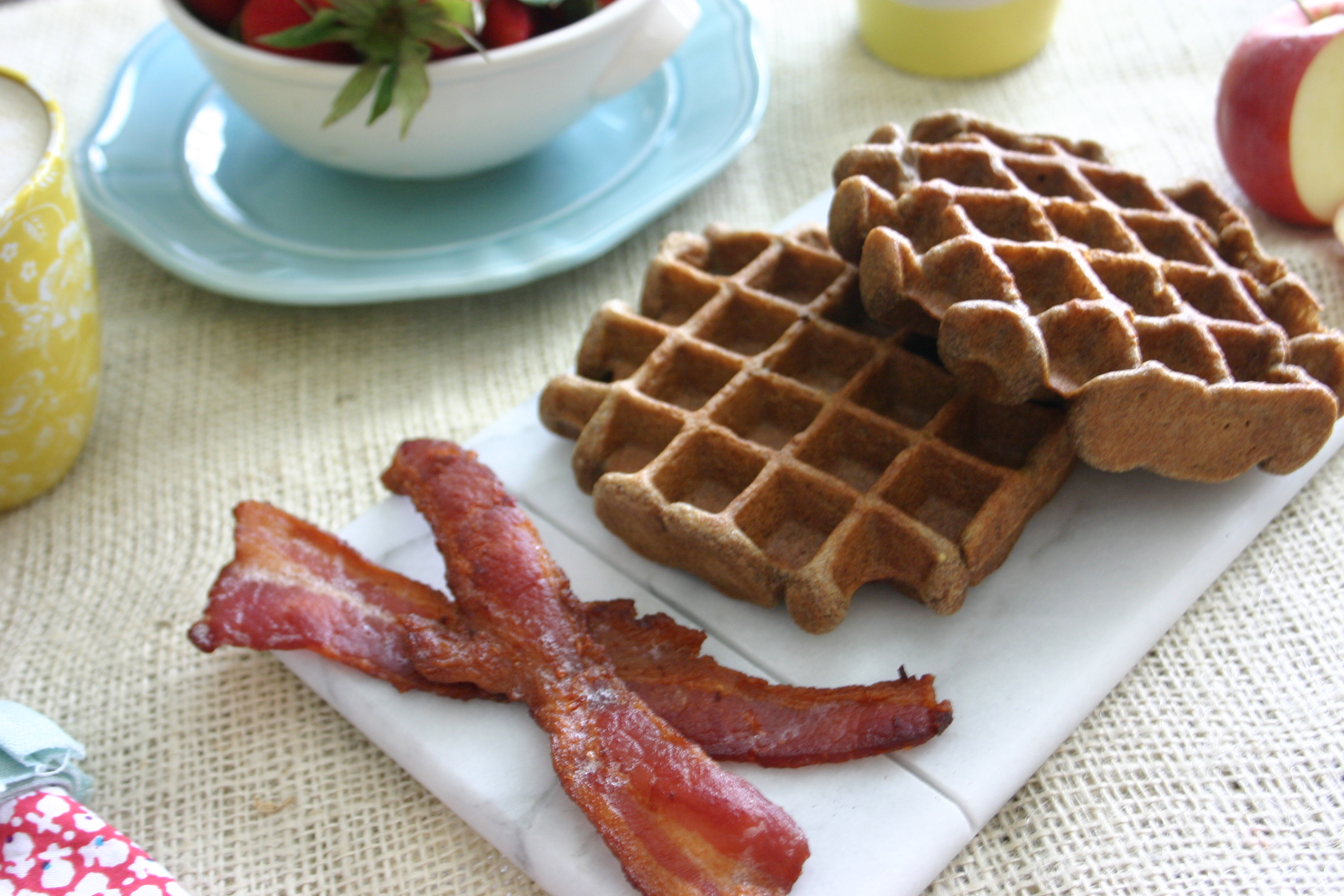 I love waffles! I especially love waffles on Sunday night! For some reason they taste better on that night and that night only! If I eat a waffle on a Saturday night it will really just be sub-par and a Tuesday night is just gross! I can't do it. Well I may be exaggerating a little but in all seriousness I do prefer them on Sundays. I have tried a myriad of grain free waffle recipes over the past couple months and were never quite happy with them. I am very particular about my waffles! Well….I am pretty particular about everything but I try to keep my OCD under wraps. Each recipe I tried would either be too dry, not crispy, or weird after taste etc. So I began playing around and after about 2 months I FINALLY perfected the perfect waffle for me. First of all, I like my waffles to be square! Before my husband I got married we went to register and I wanted to register for a waffle maker. I was devastated to discover that day that my future husband liked round waffles. I couldn't believe it! How can someone like round waffles over giant, square Belgian ones?!? Well…I decided that I still wanted to marry him despite this flaw and I distracted him with an espresso machine while I quick scanned the waffle maker I wanted. It ended up his parents got us this waffle maker and its one of the best wedding gifts we got.
Back to the recipe…..I use nuts and plantains as the base of the mixture. These two combined give it a hearty but also fluffy middle. Instead of just putting all the eggs in the mixture I actually separate 3 of them so I can create a fluffy egg white mixture. Traditional Belgian waffles actually use this technique of separating out the eggs so you can fold the egg whites in later. It creates an extremely light and fluffy batter that allows the outside of the waffle to crisp up. Yes, it does add on a few extra dishes and time but so worth the crispy deliciousness.
This recipe makes anywhere from 7-10 waffles. It kind of depends on the size of your waffle maker. So I encourage you all to try and whip up a batch on a Sunday night and curl up on the couch to watch a movie. You will thank me! 🙂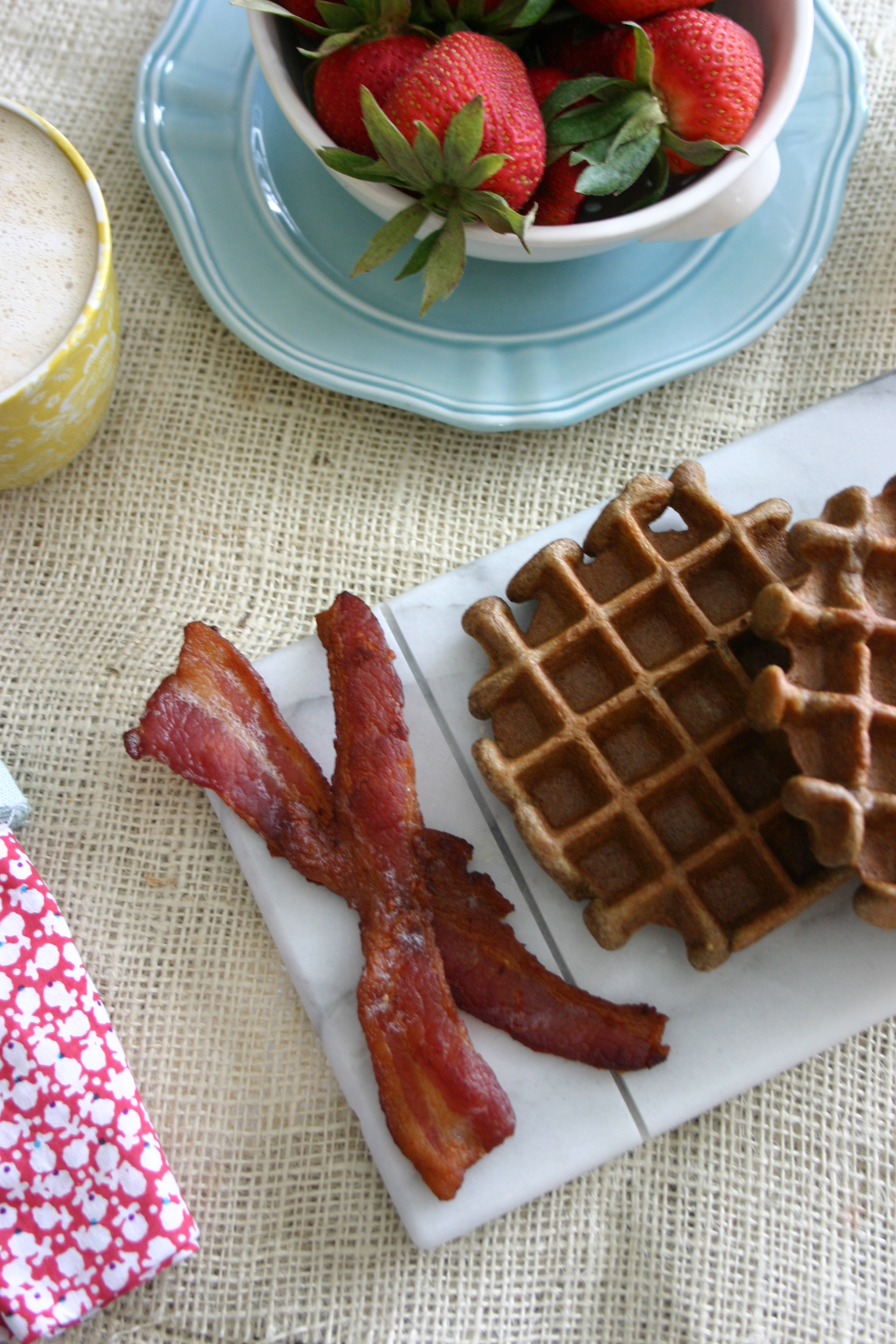 Print Grain Free Waffles
Author:

Prep Time:

15

Cook Time:

30

Total Time:

45

Yield:

8

1

x
---
½ cup

pecans

½ cup

cashews

1

large green plantain, peeled

4

eggs – 3 separated

1/3 cup

coconut oil

¼ cup

coconut or almond milk

1 teaspoon

vanilla

1 tablespoon

raw honey

¼ cup

coconut flour

1 teaspoon

baking soda

½ teaspoon

salt
---
Instructions
Put the nuts in a blender or food processor and blend until fine (I personally prefer the food processor with this recipe).
Add the peeled plantain and pulse until combined.
Add the egg yolks and egg, coconut oil, vanilla, honey and milk and blend until combined. Be sure to scrape down the edges because the nut mixture often sticks to the side.
Add the dry ingredients and pulse for about 20 seconds until incorporated. The mixture will be a thick
Let the batter sit for about five minutes so the coconut flour can absorb more of the liquid. In the meantime, whip your egg whites with a stand/hand mixer until you have soft peaks.
Pour your waffle batter in to a large bowl and take ¼ cup of egg whites and thoroughly mix. Pour the rest of the beaten egg whites in the batter and fold gently. This will create a light mousse like texture.
Once everything is combined then just follow the manufacturer's instructions for your waffle maker.
---
Notes
I have a very large Belgian waffle maker. It usually yields about 8 large waffles. If you have a smaller waffle maker it will probably yield more.