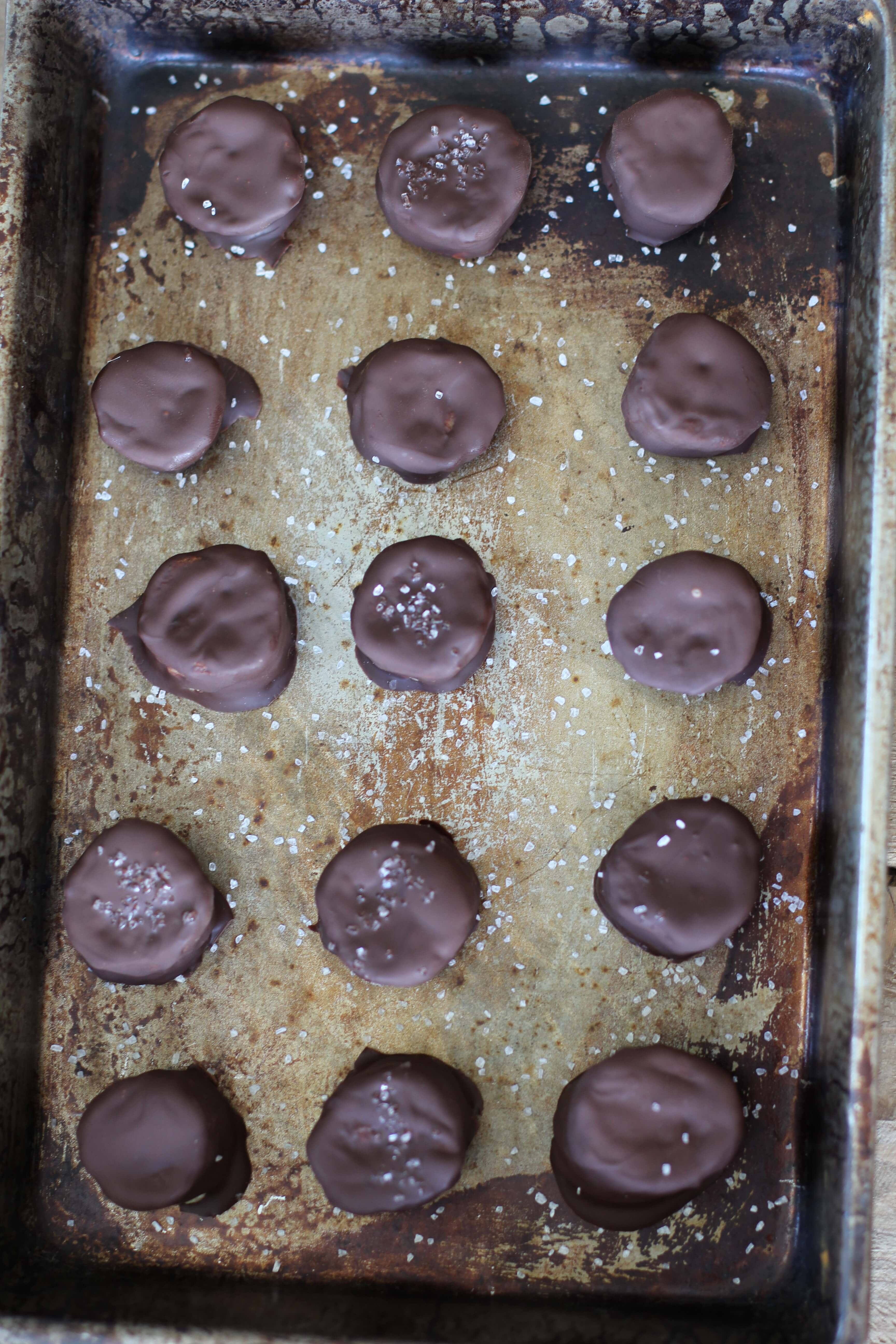 The kitchen has always been my outlet in life for stress, creativity and fun. I've always been known to make a bigger mess than what is probably necessary. I don't really mean to but stuff seems to get everywhere. I often dread the mess and cleaning up of things but there are times when I am reminded of the beauty that can result from a big mess. While I was making these frozen chocolate covered banana bites I was reminded of that very notion. I was being kind of lazy when I was covering them with chocolate. I would just haphazardly pour chocolate on the bananas and hope it covered it. When I had finished I stood up and looked down at my tray of chocolate banana mess and just smiled. The mess that I had created was actually very beautiful. The chocolate lines across the parchment paper and the disorganization of the bananas were imperfectly beautiful. It reminded me why I love cooking so much. Life is often a series of schedules, calendars and lists that I fulfill on a day to day basis. I find that I strive to live life with order and perfection every minute of the day. But then I can take some bananas and chop them up unevenly, bake them and throw chocolate on them, create a disorganized mess and the final product is beautiful and delicious. I was pleasantly reminded why I started cooking in the first place. It is my place to make a giant mess, create and produce something I consider beautiful. Not perfect, scheduled or consistent but just what I envisioned. Cooking is a daily reminder of the beauty that can be created from imperfection. An ugly tomato, a crooked sweet potato, a small piece of fruit, messy melted chocolate and many more things. Honestly, I find that there are very few things more satisfying than taking those imperfections and creating a dish I consider to beautiful.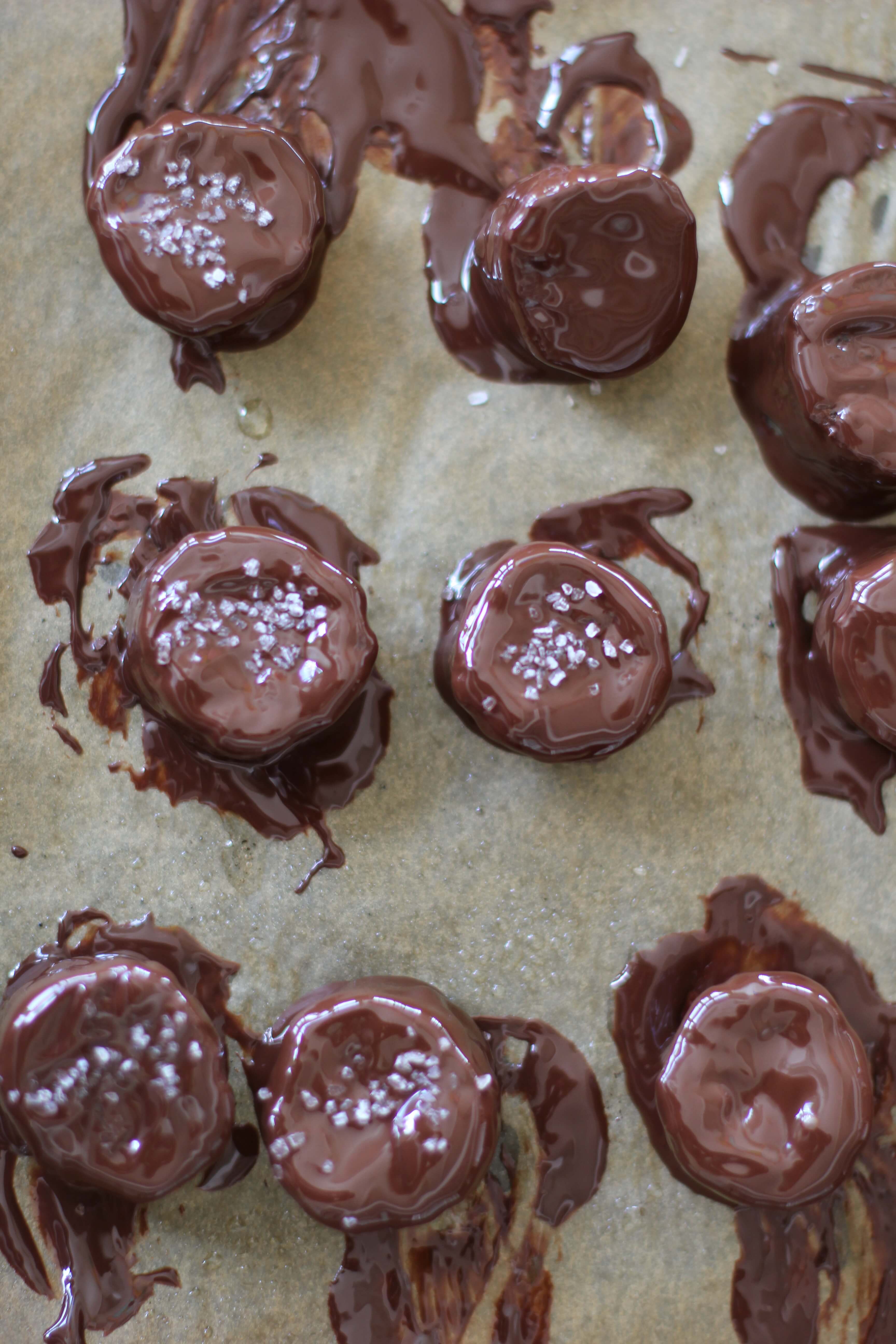 Print Frozen Chocolate Covered Caramelized Bananas
Author:

Prep Time:

5

Cook Time:

15

Total Time:

20 minutes
---
2

whole bananas, sliced

1 1/2 Tbsp

coconut oil, melted

3 oz

dark chocolate, melted

1 Tbsp

sea salt, optional
---
Instructions
Preheat oven to 450. Cut the bananas about 1.5 to 2 inches thick and place in a bowl.
Drizzle melted coconut oil and toss. Line a baking sheet with parchment paper and place the banana slices on the tray
Bake for about 10-15 minutes and flip the bananas over half-way through cooking. Let them cool for about 15-20 minutes
Melt the chocolate and then use a small spoon to spread the chocolate over the top of the banana and down the sides. Top with Sea Salt if you desire.
Place in the refrigerator for about 10 minutes or until the chocolate has hardened. Transfer them to a bag or sealed container and freeze for 5 hours or overnight
---
Notes
Let them sit out for about 5 minutes before eating them.
I would use 70% or higher for the chocolate since the bananas are so sweet.
Depending on the size of your bananas, you may need more than 3 ounces of melted chocolate.
---