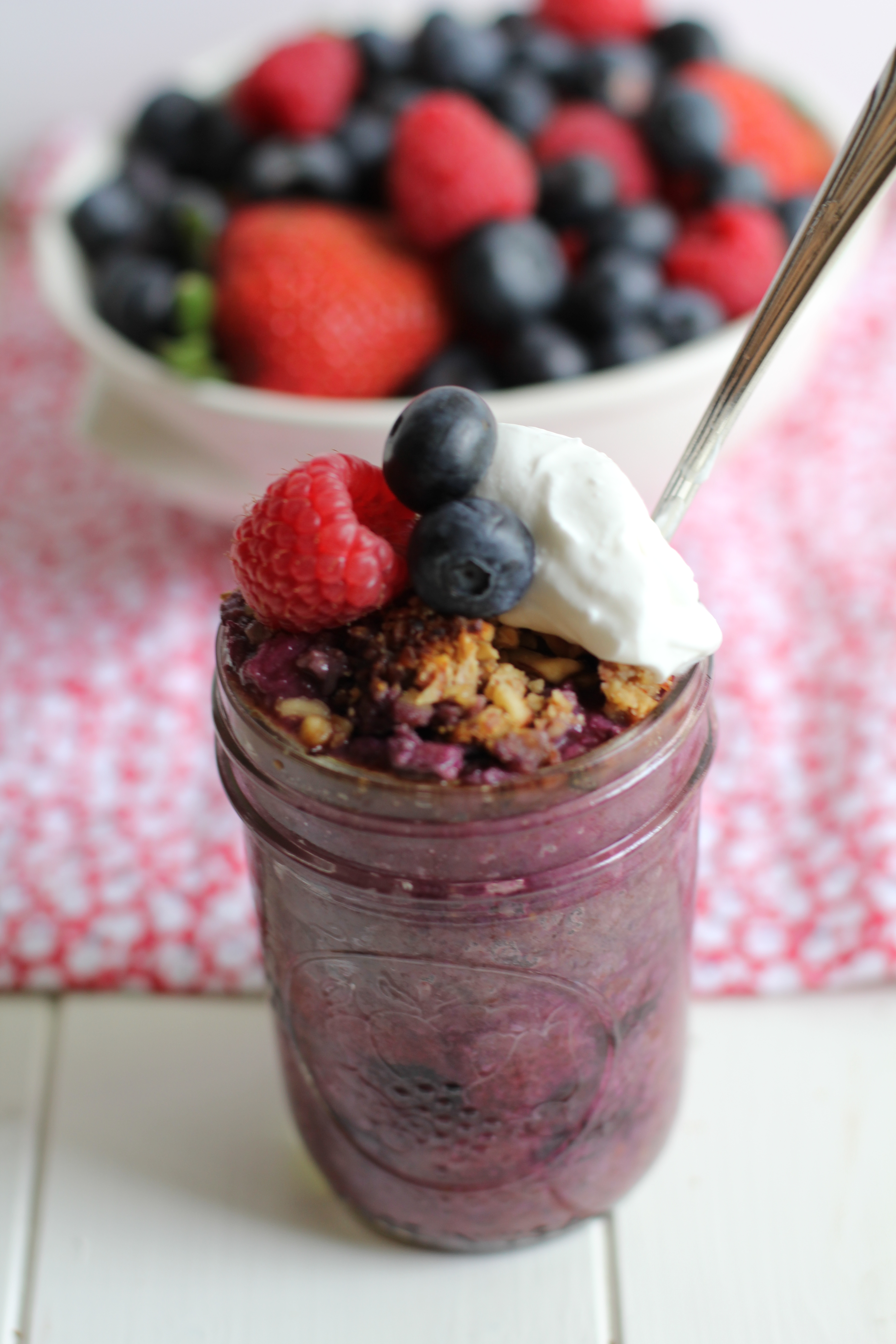 I feel like I haven't posted a recipe in a very long time! I was out of town over the weekend and that is usually when I am in the kitchen the most. I actually find that I really miss blogging when I am away from it for a bit. On the bright side – I always get great foodspiration when we travel.
This past weekend we went to one particular restaurant in Chattanooga, TN that I LOVED. It ia called Elemental and it is a farm to table seasonal restaurant. I ended up getting a "steak and potato" style meal but it was anything but generic and boring. It had a short rib and portobello hash and that was topped with grilled steak, red potatoes and a red wine reduction sauce. It was incredible and absolutely brilliant to top delicious meat with more delicious meat.
I also got a fresh muddled blueberry mojito which was so refreshing and delicious. It got me thinking about all the awesome seasonal berries around right now. It is really one of the best things about summer. So I decided I wanted to make a berry crisp that utilized all the best flavors of the season. This one is a mixture of blueberry, raspberry and strawberry. However, you could really do any type of fruit you want. The topping of crumbles and crisps have always been one of my favorite parts but they are usually grain and sugar laden. I decided to simplify this one and also leave out all of the unhealthy stuff. I also have a nut-free topping option for those that can't tolerate them.
This crisp in a cup is really one of the simplest things you can make. I believe that sometimes simple is best. Let the ingredients do all of the work for you. No need to spruce and sweeten them up. They taste great just as they are. So go out and celebrate summer and pick up some seasonal berries. Bake up some crisps in a cup and top with some ice cream, coconut whipped cream or just eat them as they are.
Enjoy!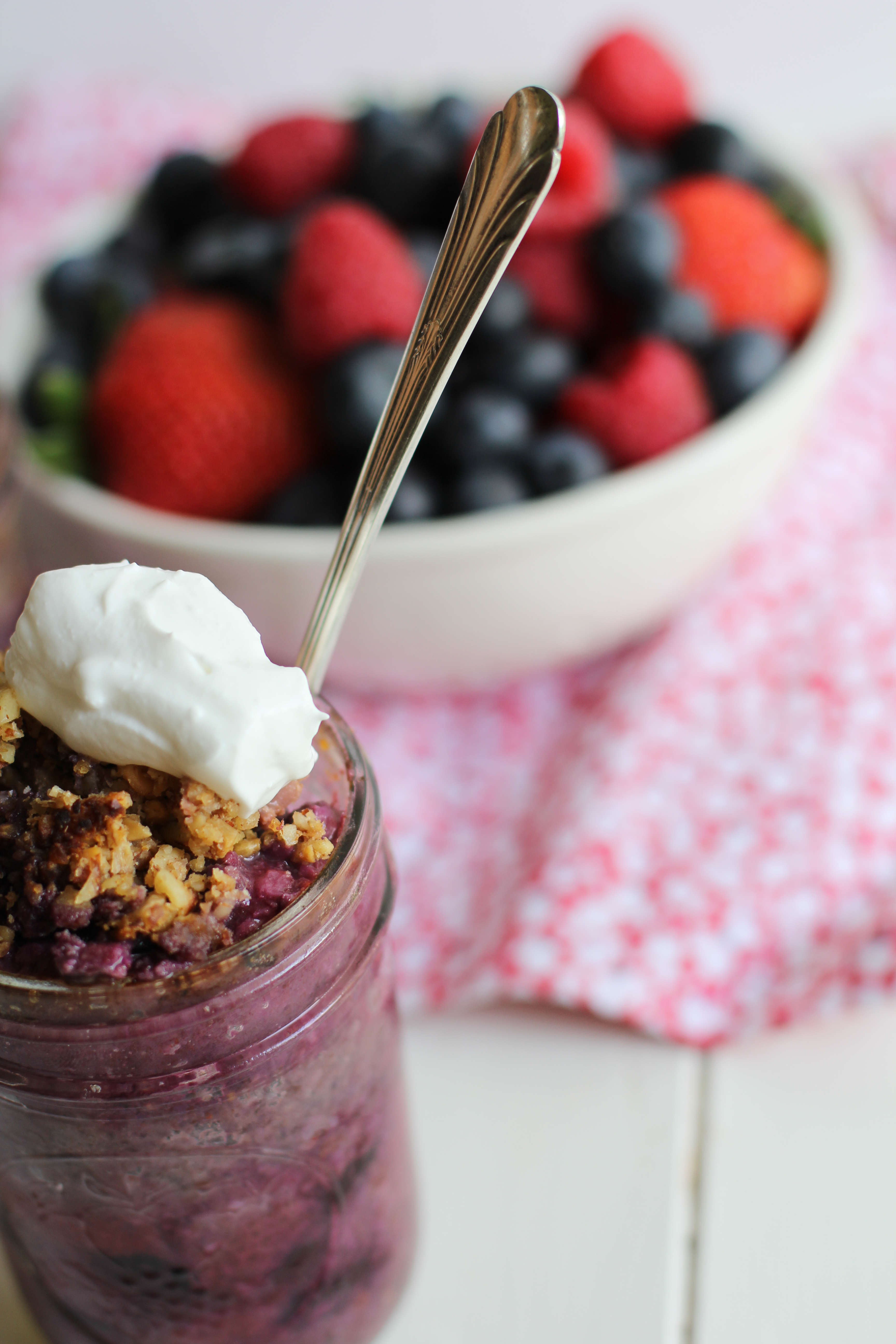 Berry Crisp in a Cup
Author:

Prep Time:

10

Cook Time:

30

Total Time:

40
---
Filling
1.5 cups

blueberry

1 cup

raspberry

2 cups

diced strawberry

1tsp

cinnamon

¼ tsp

ground ginger

1/8 tsp

ground nutmeg
Nut-free Crunch
¼ cup

raw sunflower seeds

¼ cup

pumpkin seeds

1

Tbls chia

1 tsp

cinnamon
Nut Crunch
1/2 cup

walnuts

1/2 cup

almonds

¼ cup

raw sunflower seeds

1 tsp

cinnamon
Coconut oil
---
Instructions
Add the walnuts, almonds, sunflower seeds and cinnamon or the pumpkin seeds, chia, sunflower seeds and cinnamon. Depending if you chose the nut or nut free crunch.
Put all of the crunch toppings in food processor or blender and pulse until you have small pieces. You can also just chop them finely.
Heat a skillet on medium-high heat and toast the crunch for 2-4 minutes. Keep an eye on them because they can toast quickly.
Toss all the berries in a bowl with the spices and fill your jars to the top.
Place all the jars on a baking sheet and cook for 20-25 minute.
Carefully pull the tray out and put about 2-3 tablespoons of crunch on top of each jar with about a teaspoon of coconut oil, butter or ghee on top.
Broil the crisp on high for about 2 minutes or until the crunch is toasted.
---
Notes
Nut free crunch toasts faster.
I had one jar where the topping sank in when it was being broiled. I would reserve a little just in case that happens and you can top it off.
---