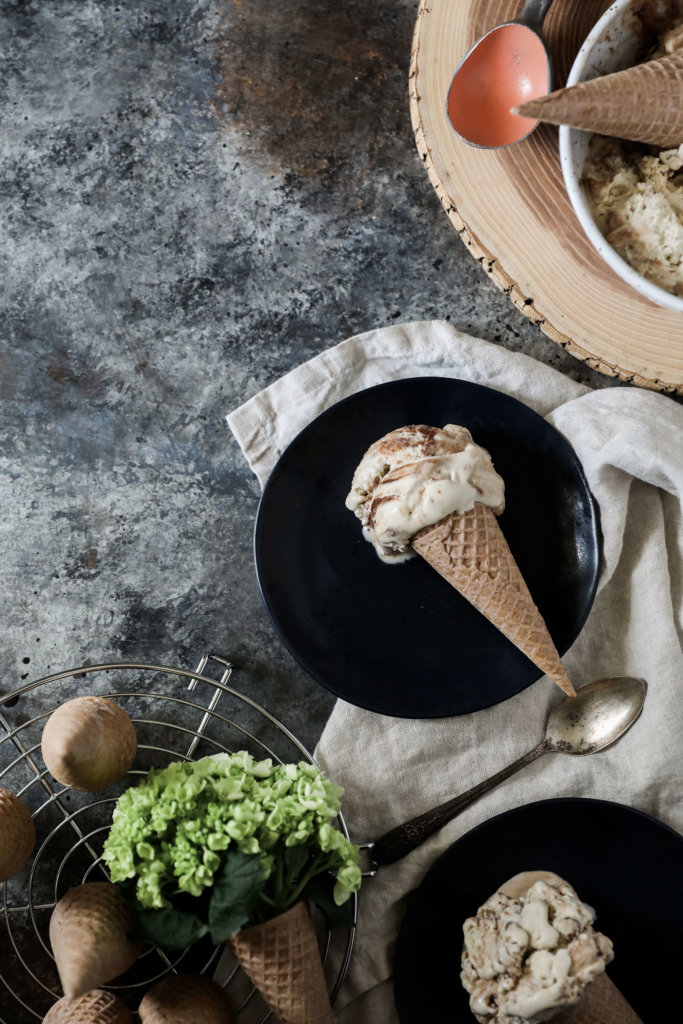 I have been going through a bit of a fennel obsession for the past year or so now. It all started when my sister and I had dinner at one of my favorite local restaurants – Rolf n Daughters. If you are ever in Nashville you definitely need to go! Anyway, we had this wonderful dessert that was topped with candied fennel and my mind was seriously blown. I had never had fennel in a sweet dish before and all of the sudden it all made since. What is "all?" I don't really know but it was one of those foodie moments where you have a "AHA" moment.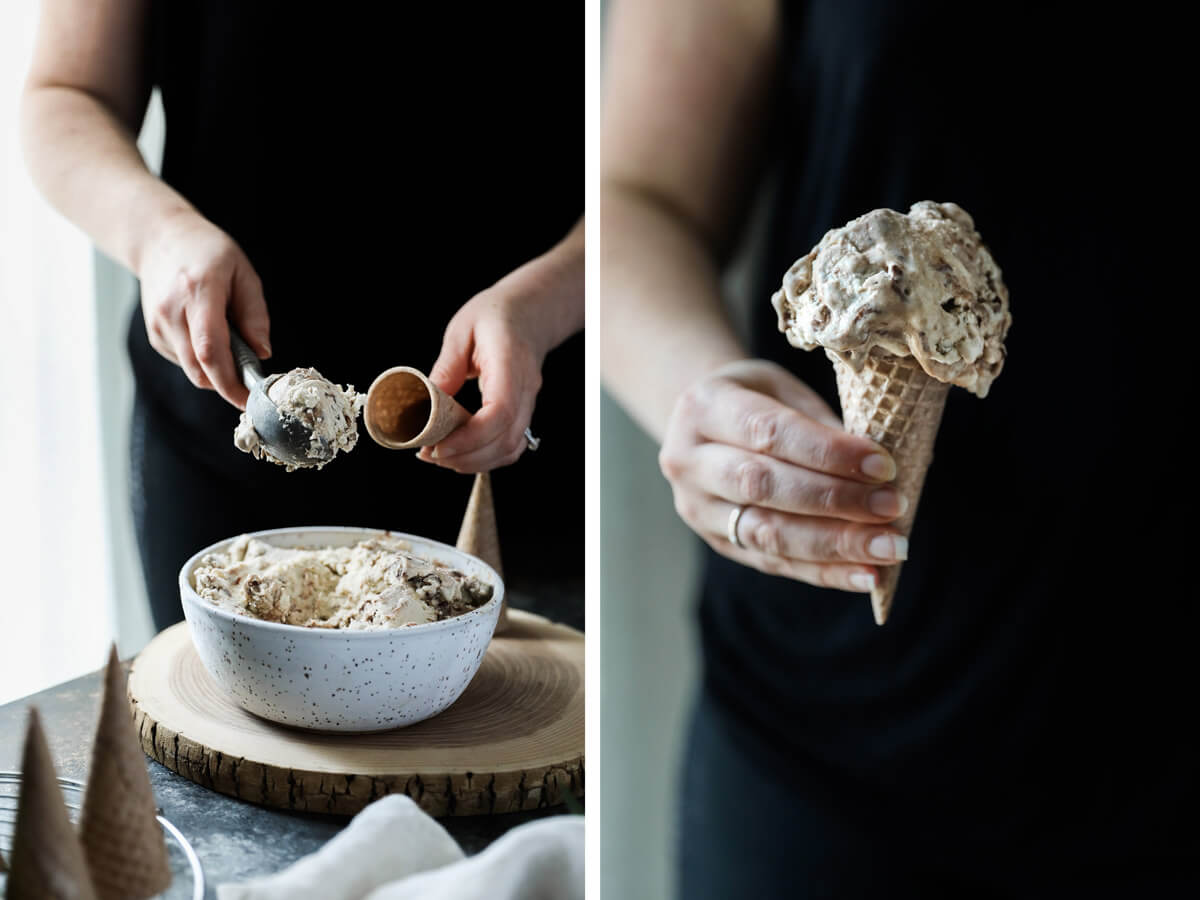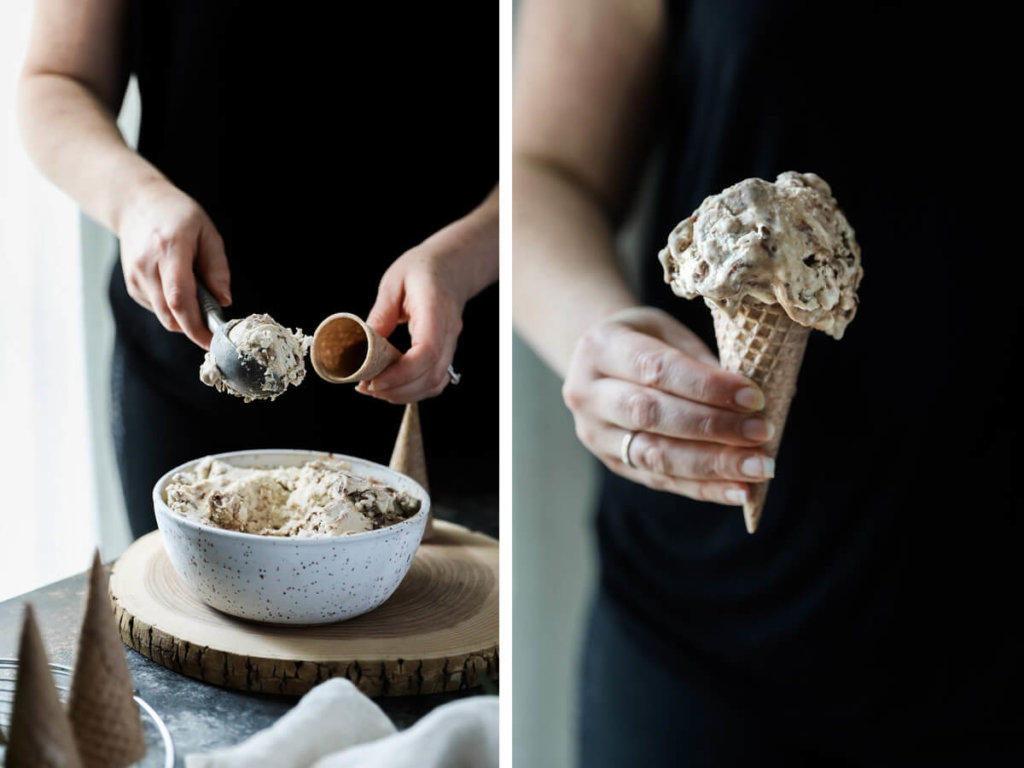 About a month after that we went to Jeni's ice cream and I decided to give it a try to see how my stomach would feel after about three years of not eating it. They had a seasonal fennel ice cream on the menu and I about freaked out and immediately ordered it. It was just as magical as I expected it to be and I knew I had to recreate it.
Fast-forward about a year later and our CSA started putting fennel in our baskets and I knew I had to try and make some sort of ice cream with it.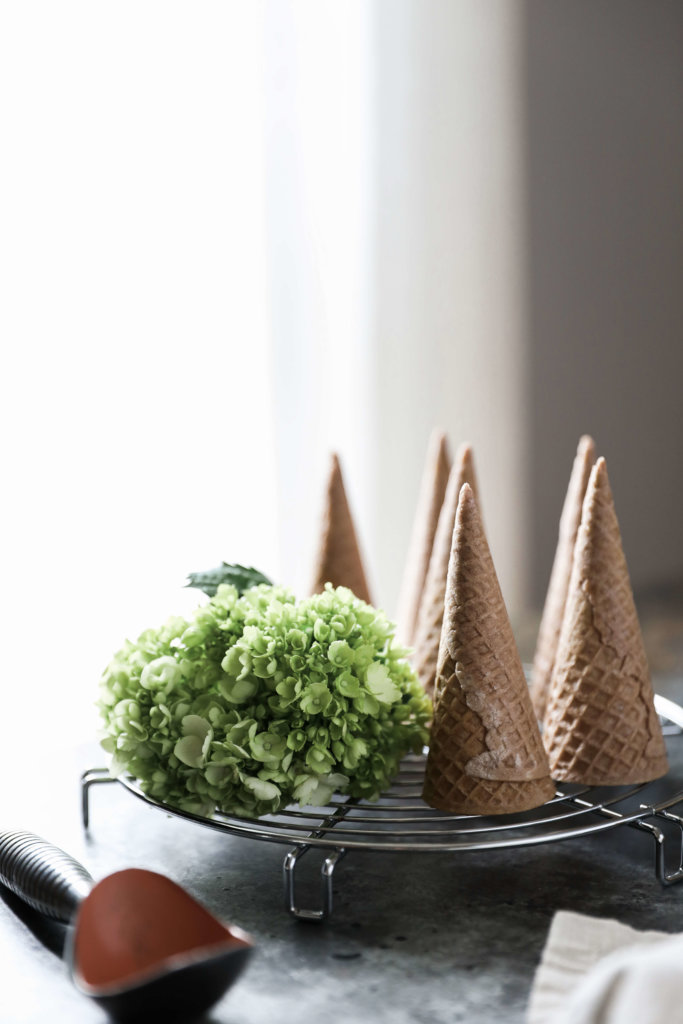 I tried to candy it with honey first and that tasted amazing but the texture just wasn't right. I finally realized that to get optimal flavor and texture I really should just infuse the milk over a long span of time.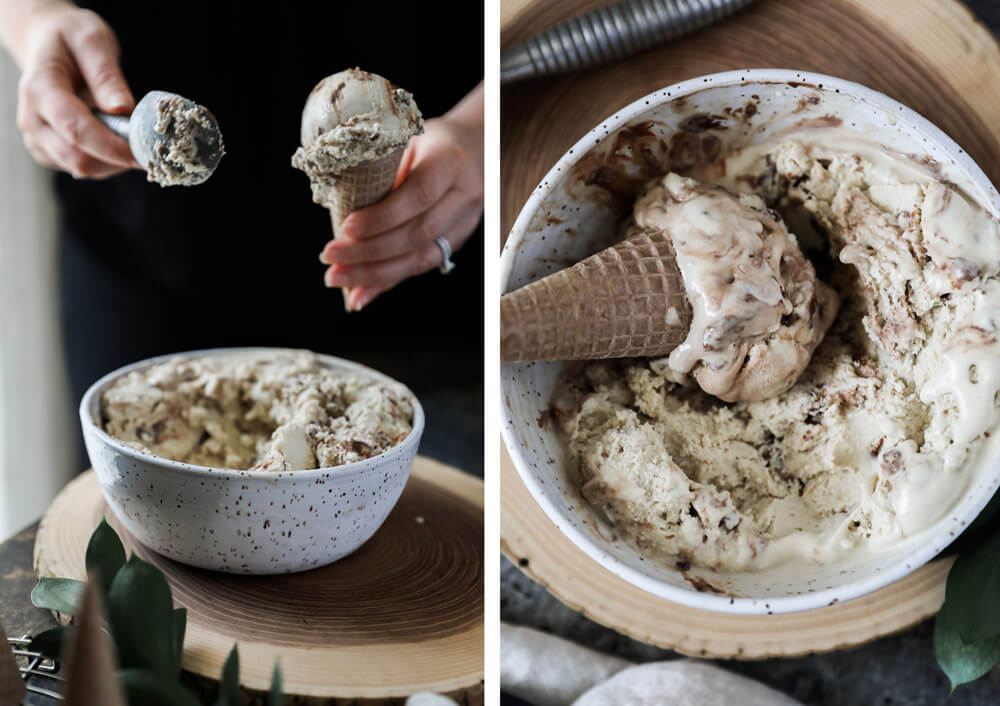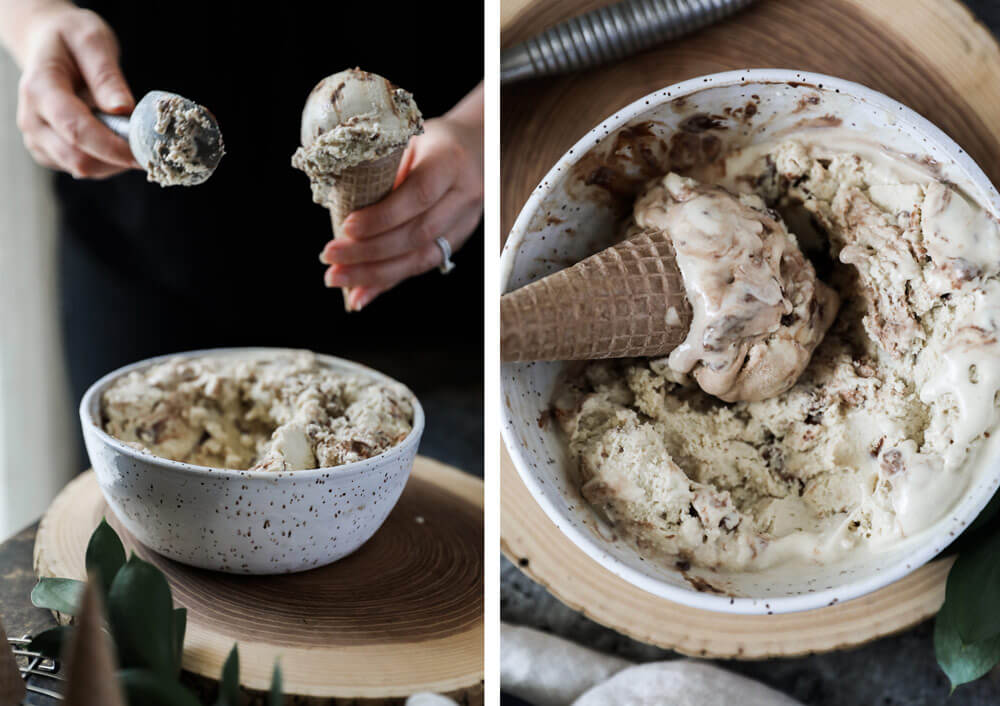 I usually don't have the patience to wait on some ice cream batter to set in the refrigerator but this one really is worth the wait. The chocolate ganache is a great addition to the fennel flavor. Adds a layer of depth and richness to a sweet herbal ice cream. It really is the perfect seasonal treat right now.
Enjoy!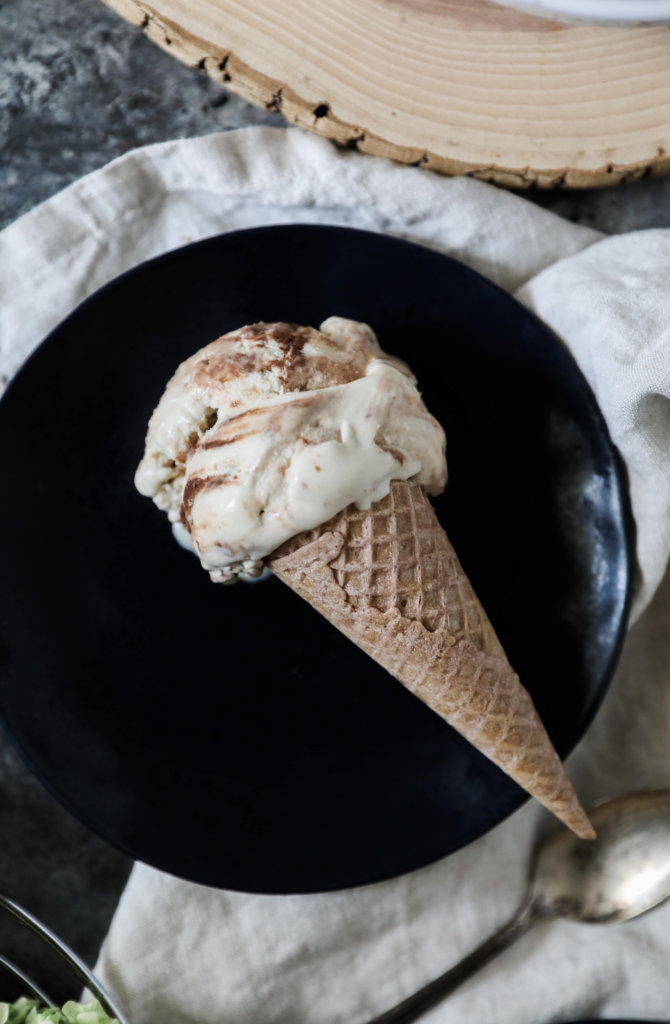 Print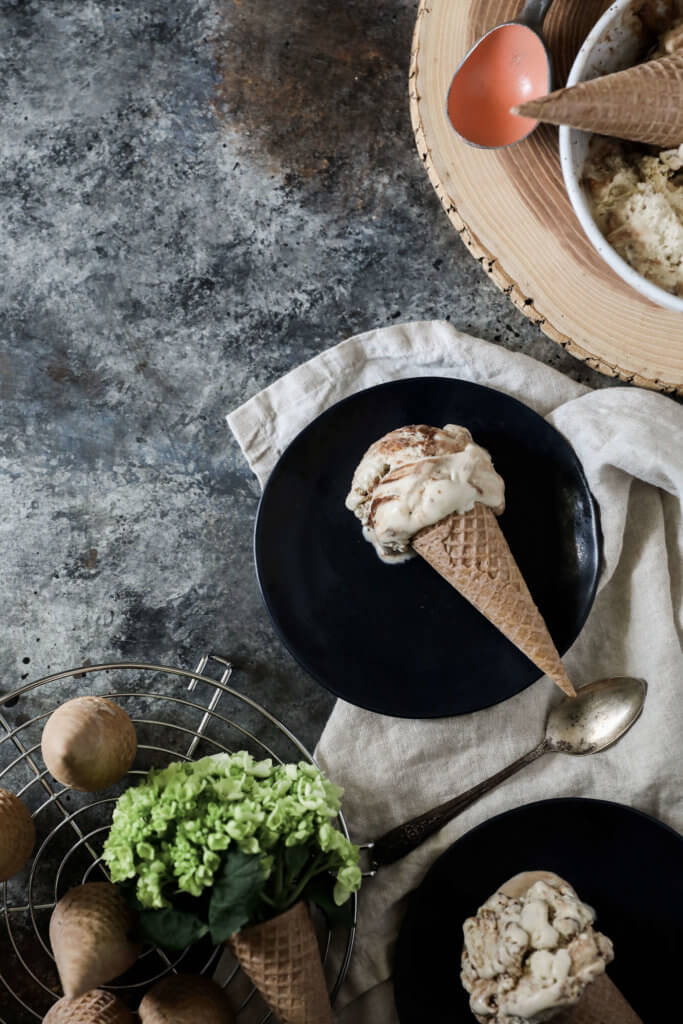 Vegan Fennel and Dark Chocolate Ganache Ice Cream
Author:

Prep Time:

480

Cook Time:

30

Total Time:

510
---
Fennel Ice Cream
2

cans full-fat coconut milk, divided

1 cup

coarsely chopped fennel bulb

1 cup

fennel fronds (top of the fennel)

8

whole cardamom ponds

3 oz

dates, pitted (I prefer date lady)

¼ cup

maple syrup

1 tablespoon

vanilla extract

1/8 tsp

salt (I prefer pink Himalayan)
Chocolate Ganache
¼ cup

full-fat coconut milk

3 oz

dark chocolate (65% or higher)
---
Instructions
Heat a saucepan to medium heat and add one can of coconut milk, chopped fennel, fronds and cardamom pods. Start to heat the mixture but do not boil.
Add the other can of coconut milk to a high-speed blender with the dates, maple syrup, vanilla and sea salt. Blend until mixture is smooth. Strain through a sieve and in to the saucepan.
Let it steep (do not let it boil) for another 30 minutes and then remove from the heat.
Let mixture cool to room temperature. Pour into a bowl and cover. Let the ice cream mixture set in the refrigerator for another 8-10 hours or overnight.
Before churning the ice cream prepare the chocolate ganache. Place a glass bowl over a small saucepan filled with a little water. Add the coconut milk and heat. Add the dark chocolate and stir frequently until melted. Remove from the heat and let cool.
Strain the ice cream mixture through a fine mesh sieve to remove the fennel and cardamom pods.
Pour the ice cream batter in to your ice cream maker and follow according to the manufacturer's instructions.
Once finished churning pour about one-third of the batter in a large container and then drizzle some ganache on top to create a ribbon affect. Repeat with another two layers of ice cream and ganache and freeze the ice cream until solid.
Remove from the freezer about 20 minutes before serving.
---
---