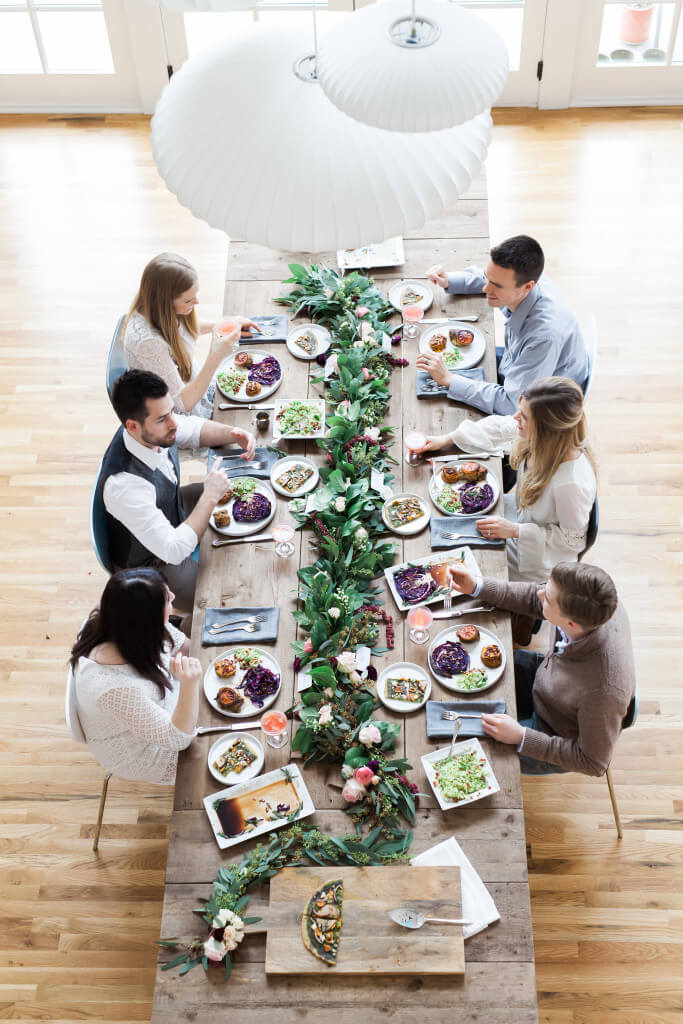 "Food is the toffee-toasted mortar that binds people together, building stronger friendships that, when stacked sky high, create the most special of gatherings." — Kinfolk
There are few things I enjoy more than a great meal surrounded by the people I love the most. For some time I have wanted to throw a dinner party and feature it on Jessi's Kitchen. For me, a dinner party symbolizes all the things I love about food. I love the satisfaction that comes from creating recipes that encompass a specific vision, setting and mood. I also find such joy from watching people enjoy the food and time together around the table. My desire for this photoshoot was to create a very fresh and clean family style meal and to emphasize produce that was in season in January.
I had the privilege of collaborating with my friend Lillie, a very talented photographer in Texas. We had been talking about doing this for quite some time and it was a dream come true for me to work with her. So here is a peak in to our dinner party shoot and all recipes are linked in the menu at the bottom of the post.
Menu
To share
Grain-free flatbread crust with a pesto base and topped with sweet potato, red onion, pear,
goat cheese, pumpkin seeds and drizzled with a balsamic reduction
Main Course
Thinly sliced and layered sweet potatoes, roasted with bacon and maple syrup
Shaved brussels sprouts, toasted hazelnuts, pomegranate seeds and sliced red onion
tossed in a lemon pomegranate vinaigrette
Red cabbage roasted in olive oil and garlic, topped with a balsamic reduction
Pan Roasted Blood Orange Chicken
Chicken thighs coated in a cumin and orange zest rub, roasted with blood orange slices
Dessert
Chocolate "graham cracker" crust with a coconut crème filling, topped with
chocolate ganache and a caramel drizzle
Cocktail
Broker's Gin, pomegranate, lemon, orange and chartreuse
Images by: Redeeming Love Photography