I put together a list of some of my favorite gift ideas for the foodie friend in your life, husband, wife, brother sister etc. A lot of these items are ones we use all the time in our home and a lot of the brands included are ones that we love and trust. I hope these gift guides help you out some this Holiday season!
A. 8 inch Classic Chef Shun Knife.
This is my absolute favorite knife that I own and a great addition to any foodie's kitchen
B. Primal Palate Organic Spices.
These spices are some of the highest quality spices you can purchase and are sure to make any cook or grill master happy!
This has become one of our favorite olive oils to use because of its quality but also because of its rich flavor. Trust me, your salads will forever be changed.
I believe that everyone needs to own a cast iron skillet. They are fantastic to cook in on the stove or in the oven and they will also last you a lifetime!
Although a food processor is not a necessity in the kitchen it can save you loads of time and effort. It is one of my favorite kitchen appliances and one I recommend to anyone wanting to expand their kitchen. A mini one is much more affordable and a great starting place.
This has become one of my favorite chocolate companies and if you don't order some of the new chocolate spreads you are seriously missing out on a lot of deliciousness.
These cookies are so delicious and a wonderful treat for the gf friend or family member in your life.
H. Rickaroons.
I got a box of these for my birthday last year and WOW! Some of the best coconut macaroons I have ever had.
This is the perfect gift for any of your health conscious food friends or even people who want to start cooking healthier.
A le Creuset is such an elegant and practical gift to give to a home cook. They are so versatile and double as beautiful decoration in your kitchen.
I love these handheld citrus juicers and are one of the few kitchen accessories I recommend everyone have!
Salad spinners are great for the salad or greens lover in your life and an affordable gift to give this season.
Cassava flour is one of the best things that has happened to me this year. This flour is a must have to a gf or paleo kitchen.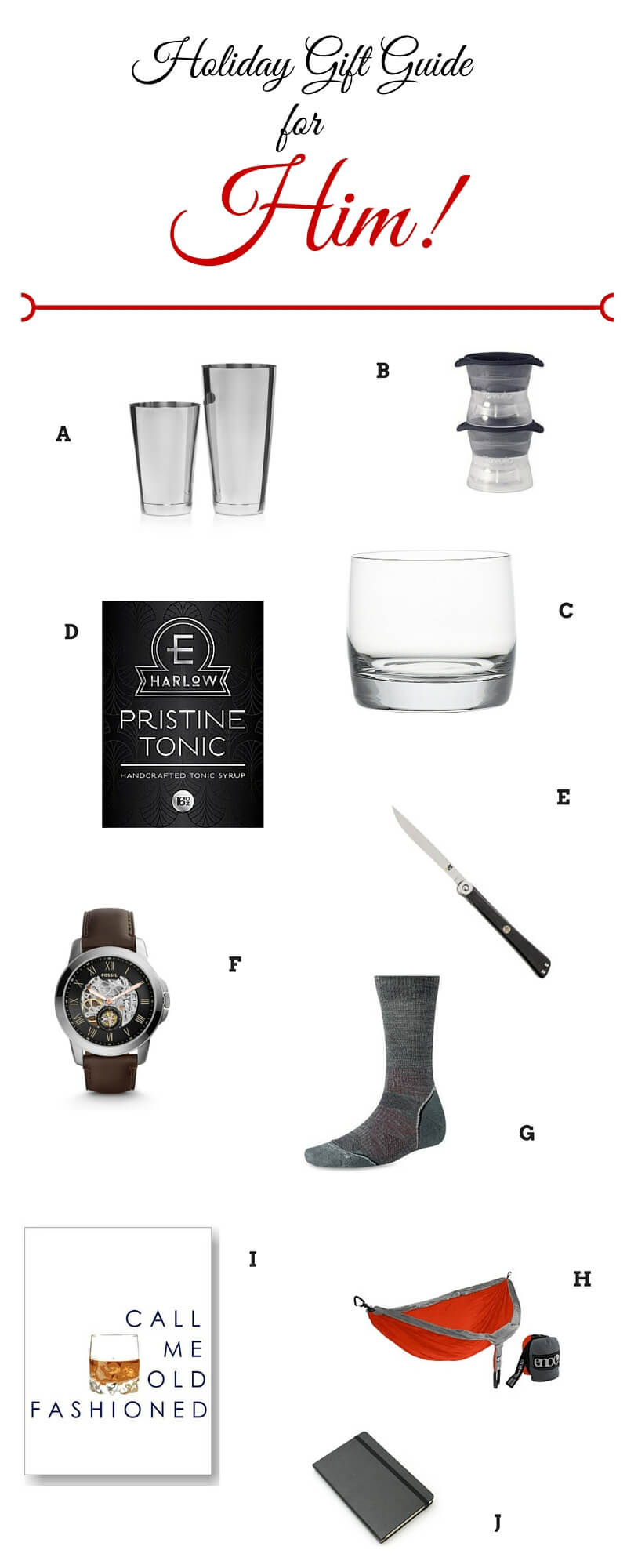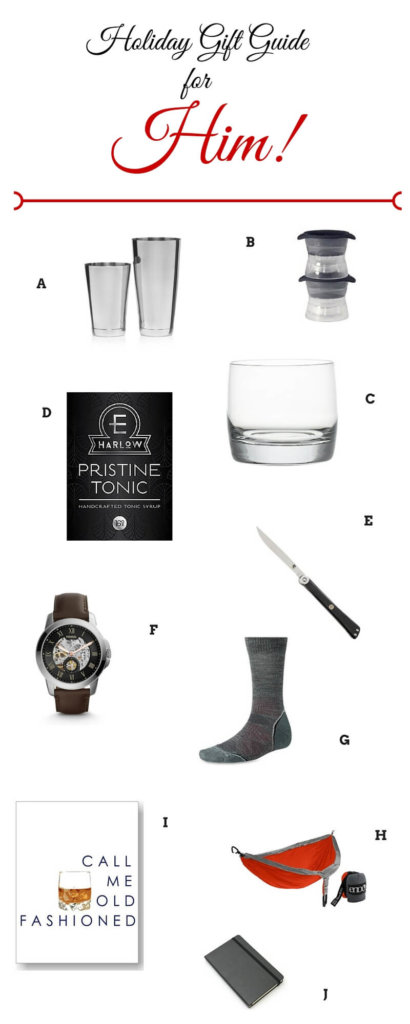 This is the best cocktail shaker we have ever had. Even if you don't make a lot of cocktails it is a great for shaking up some cocktails or even a variety of lemonade.
This is one of the best gifts I have ever gotten my husband. He loves these molds for cocktails and they always impress a guest when their drink comes with a giant sphere.
We stumbled upon these glasses a couple years ago and were so surprised how much we loved them because they are only a few dollars each. This is a great gift for the whiskey or cocktail lover in your life.
If you don't think you like Gin and Tonic then you clearly haven't tried this Pristine Tonic. The best tonic mix I have ever had! It is made locally here in Nashville and is great mixed with a variety of liquors or just with sparkling water!
This is a classy knife and a great gift to the steak lover in your life!
My husband loves watches and it has become a staple gift to him each year. Skeleton watches are a very classy watch that can be dressed up or down.
These socks are great for the outdoorsman in your life! Perfect for everyday life or even hiking.
These hammocks are our favorite and a perfect gift for the person who loves to relax outside or go camping.
I. Call Me Old Fashioned Print.
I got this for my husband last year and he loved adding it to his bar collection. It is such a classy and stylish print and perfect for a bar cart or shelf.
This is a great stocking stuffer and such a useful gift. They can be used for writing down recipes, ideas or notes.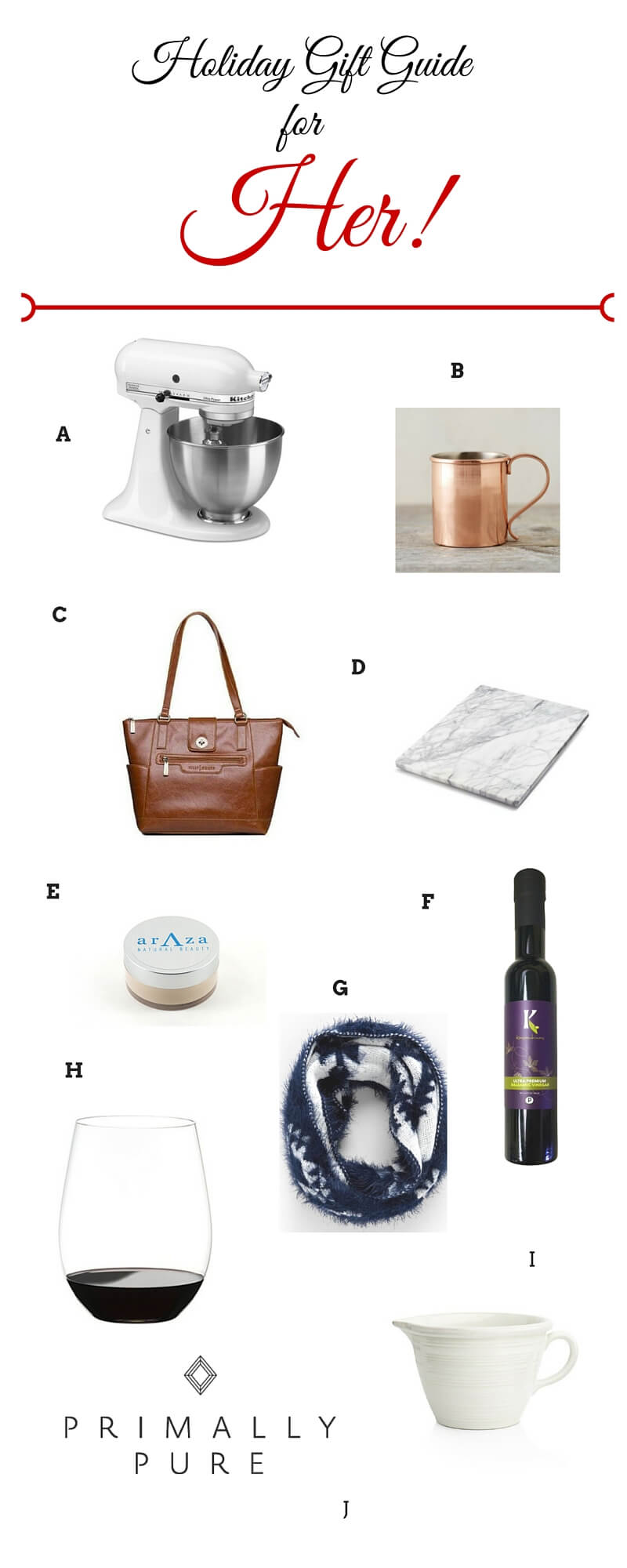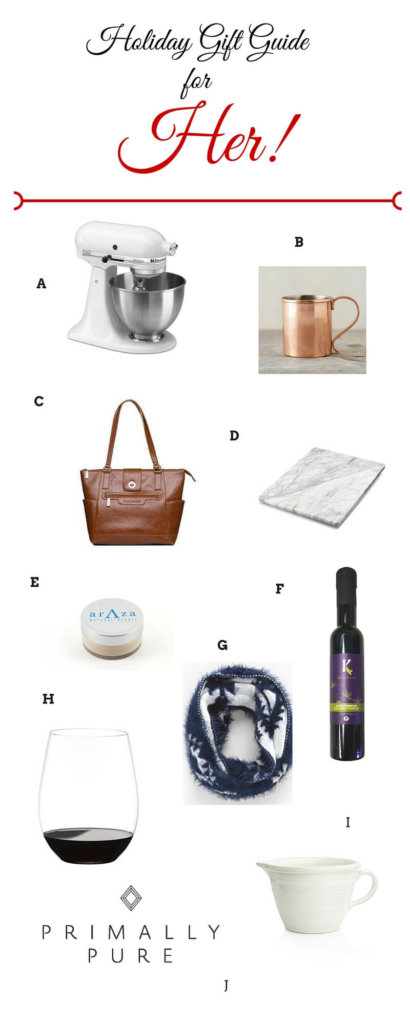 This is the perfect gift for the baker in your life and a dream come true. Just think how many cookies and cakes you will get to taste test after gifting this mixer!
B. Copper Mugs
Copper mugs are so fun and festive and can be used for so many things. The hostess in your life would love this addition to her kitchen.
This is one of my favorite bags and so versatile. It can be used for the photographer in your life or for someone who just loves a good purse.
This is one of the best purchases I have made in a long time. This is a great gift for the pastry chef in your life or a great backdrop for food photography.
I love this beauty company because of it's honest and clean ingredients. It also is some of the best working makeup I have ever used.
F. Kasandrinos Balsamic Vinegar.
This balsamic is absolutely delicious and is a perfect gift to bring to thank a hostess at a Christmas Party!
G. Loop Scarf.
A scarf is such a great little stocking stuffer and something every girl can use during winter months.
Every house needs a good set of wine glasses and I love the versatility of these stemless ones!
I recently purchased this batter bowl and have absolutely loved it. A great addition to for any woman who loves to bake!
I really love this skincare line for its pure ingredients and also how effective it has been. A great gift for the woman in your life to feel pampered!
*This post contains some affiliate links.