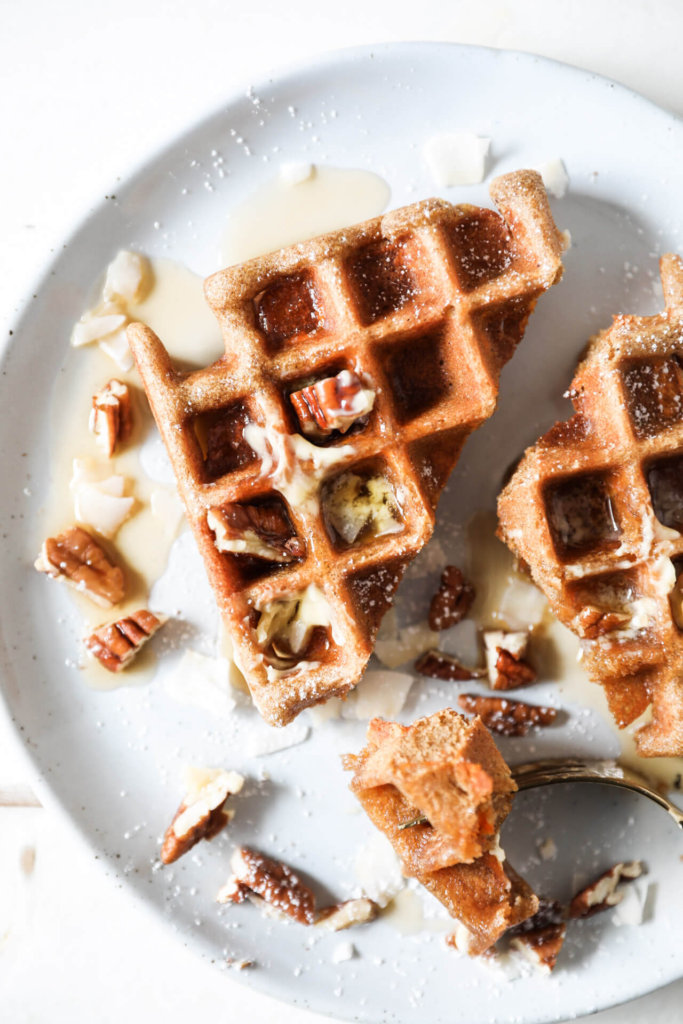 These Gluten-free Carrot Cake Waffles are one of the best breakfast recipes I have created in a long time and that is saying a lot because I take breakfast food very seriously.
Also, carrot cake is probably in my top three favorite cake flavors and with Easter coming up I had it on my mind and decided to turn it in to a gluten-free waffle instead.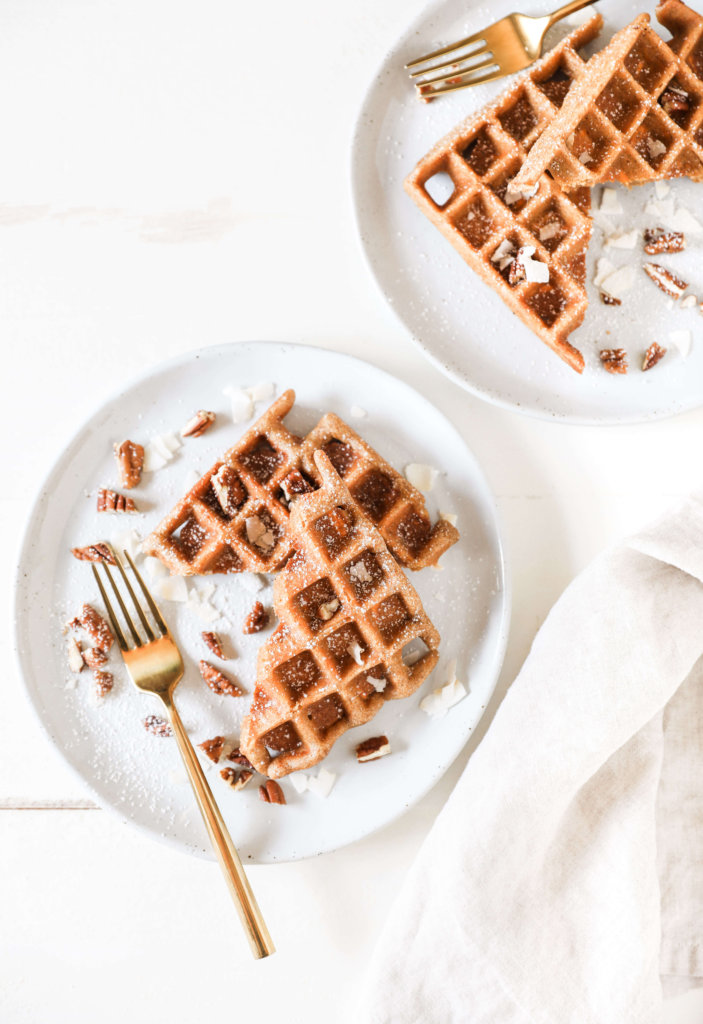 Ingredients for Carrot Cake Waffles
Sorghum flour
When I was creating this recipe I tried several different variations but sorghum flour was one that could withstand the moisture from the carrots and yield a super crispy gluten-free waffle. Also, you can find the Bob's Red Mill brand which is under $3/bag on Thrive Market. That is a super good deal! If you don't have a Thrive market membership though you can find sorghum flour at most health food stores.
Arrowroot Flour/Starch
This flour gives the batter a bit more lightness since the whole grain sorghum can be a bit heavy.
Cinnamon, nutmeg and ginger
These warming spices give these carrot cake waffles so much flavor and that classic flavor we all love in Carrot Cake.
Coconut Oil
is a great dairy-free option for these waffles but you can substitute melted butter if you prefer.
Shredded Carrots
bring a lot of moisture to the waffles and a slightly sweet flavor but most people would probably never guess there is a vegetable in their waffle.
How to Make Gluten-free Carrot Cake Waffles
Waffles are really incredibly simple to make.
You want to whisk together your dry ingredients together first in a large bowl and then set the bowl aside and start shredding the carrots with a grater.
Whisk together the eggs, milk, coconut oil and honey and then pour the wet mixture in to the bowl with the dry ingredients. Lastly, stir in the shredded carrots.
The next step is really important. Make sure your waffle iron is really hot. You obviously don't want to burn the waffles but you want it to be thoroughly preheated so you get a nice crispy carrot cake waffle. I like to make sure the waffle iron heats back up between batches too.
FAQ and Tips for Gluten-free Carrot Cake Waffles
Where can I buy sorghum flour?
A lot of health food stores carry sorghum flour but you can also order it online. I haven't found many affordable options on amazon but Thrive Market is a great resource.
How do I shred carrots?
You really don't want to use the pre-packaged shredded carrots in these gluten-free waffles. They are cut too big and honestly, just lacking flavor. So you have the option of using just a box grater or if you have a food processor with the grater attachment. Personally, I enjoy just using a box grater like THIS. It is easy clean up and provides thin ribbons.
Is there a substitute for the sorghum flour?
I am sure there is something that could work as a substitute in the waffle recipe but I haven't tried anything yet so I am hesitant to recommend a substitute.
How long do you cook waffles in the waffle maker?
This really depends on your waffle maker. You do want to make sure that your waffle maker is preheated and very hot so it can crisp the outside of the carrot cake waffles. My waffle iron (THIS one) actually beeps when it is "done" but I usually let it go about a minute longer than that. In theory, they should take 1-3 minutes depending on your waffle iron.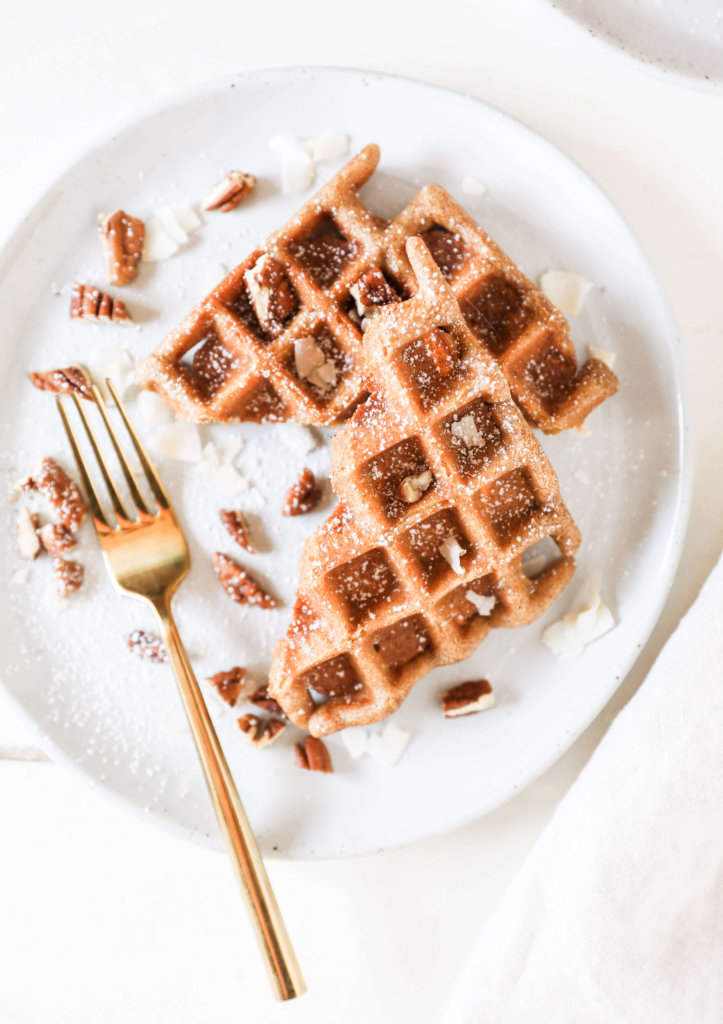 Looking for more ways to add veggies to your baked goods? Try these
Gluten-free Butternut Squash Muffins
Gluten-free Chocolate Zucchini Cake
Print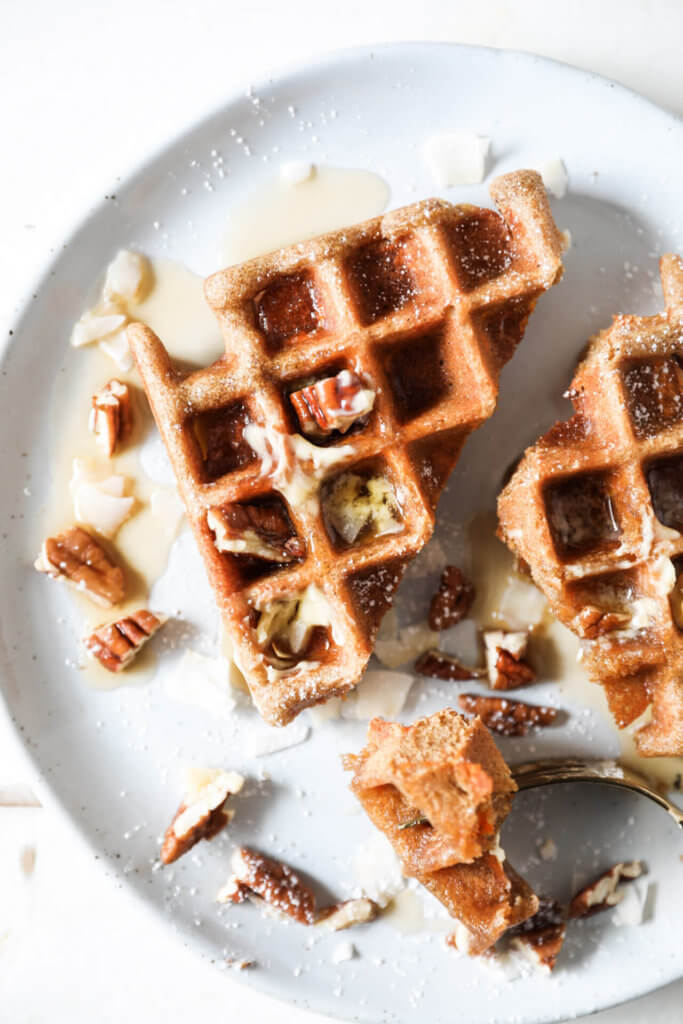 Gluten-free Carrot Cake Waffles
Author:

Prep Time:

15

Cook Time:

30

Total Time:

45

Category:

Breakfast
---
Description
The BEST gluten-free carrot cake waffles made with sorghum flour and loaded with carrots and spices.
---
1 cup

sorghum flour

1 cup

arrowroot flour

3/4 tsp

salt

2 tsp

baking powder

3 tsp

ground cinnamon

1 tsp

ground nutmeg

1 tsp

ground ginger

3

eggs

1/2 cup

milk (I used canned lite coconut milk)

6 Tbsp

coconut oil, melted

2 Tbsp

honey or maple

1 cup

shredded carrots (approximately

1

large or

two

small carrots)
Optional Toppings
Pecans
Coconut Chips
Butter/Ghee
Maple Syrup
---
Instructions
Combine the dry ingredients in to a large bowl and whisk to combine.
Use a box grater to shred the carrots. Set aside. (see notes).
In a large bowl combine the eggs, milk, oil and honey in a bowl and whisk to combine.
Add the dry ingredients to the wet ingredients and whisk to combine.
Add the shredded carrots and mix. Let batter rest for about 5 minutes
Heat a waffle iron to high heat and grease with a little oil. Add 2-3 tablespoons of batter (dependent on your size waffle maker) to the hot waffle maker and follow according to manufacturer's instructions.
---
Notes
I have tried using the grater attachment on my food processor and also just a standard box grater. I found that the texture of the waffles was a lot better when I grated the carrots with the box grater like THIS.
If you want to ensure that your waffles get really crispy make sure that your waffle maker is very hot. I use THIS waffle iron. 
Keywords: carrot cake, carrot cake waffles, gluten-free waffles, sorghum waffles, gluten-free carrot cake waffles