Last year I spent some time researching juicers because I wanted to incorporate juices in to my diet. After much time researching I finally decided on one. I picked up some veggies on the way home and then immediately started making a drink. I was used to drinking them and really didn't think much about how "green" it tasted. However, the first time I gave my husband one he took a sip and looked at me as if I was trying to murder him or something. Needless to say, some people need to get used to drinking greens in a juice. It got me thinking a lot about ways to use my juicer to make juices for people who weren't used to them and also for entertaining. I wanted people to see that healthy foods can be fun and festive too!
One of my favorite things about shopping at the farmer's market is being able to purchase really fresh produce and then figuring out what to make with it. Often times I think about how backwards that is from how we usually shop. We often figure out what we are going to cook, make a list and then buy those things. However, when I go to the farmer's market I have nothing in mind that I want to make most of the time. I look for nutrient dense produce and find what is in season and often come home with a large bag of fresh produce that I wouldn't normally buy at the store. This season, one of my favorite farms has had the most incredible kale. Seriously probably the best I have ever had in my life! This juice recipe is really inspired by things I have been getting from the farmer's market lately and also inspired by bold fall flavors. It is a great blend of sweet, tangy, and spicy. All the flavors really balance each other and you don't get an overwhelming kale taste for those who maybe don't like the flavor as much. Topping the juice with some club soda not only gives the juice a festive spritz but also leaves a very refreshing taste on your pallet!
I personally use a slow juicer for this recipe. They are a little bit more of an investment but I would say that they are definitely worth it. If you are serious about getting a juicer I would say that Williams-Sonoma would be a great place to start. You can read about the many different styles and watch some videos here.
Enjoy!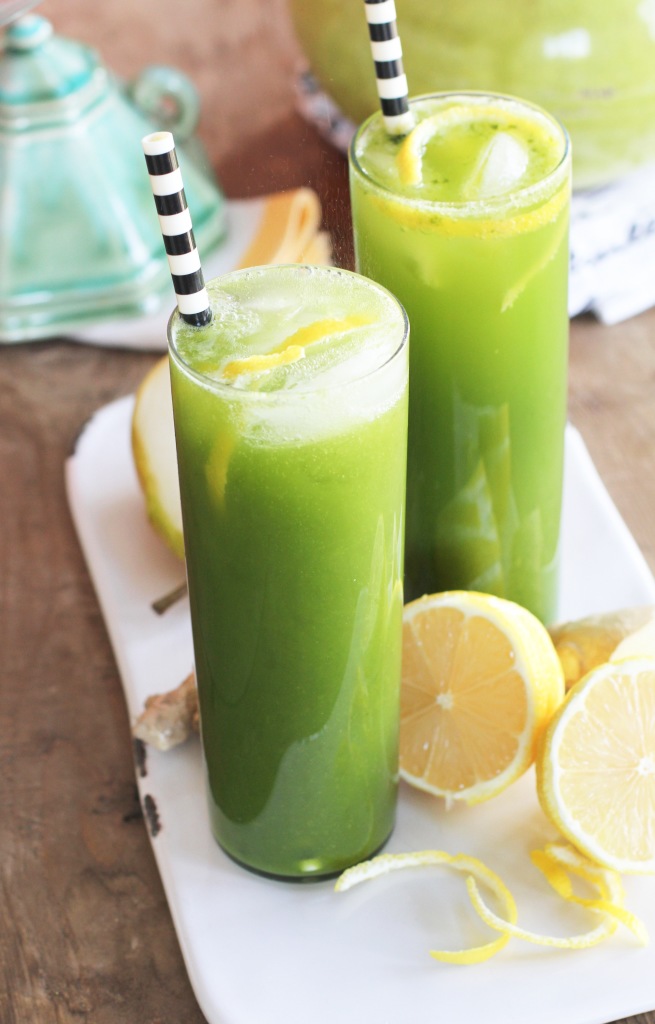 Print Festive Green Spritzer
Prep Time:

5

Total Time:

900
---
1

Medium cucumber (approximately

10 oz

)

1

Large lemon (approximately

5 oz

)

3

Bartlett pears (approximately

14 oz

)

3

Large kale leaves (approximately

5 oz

)

3

Inch piece of ginger (approximately

1 oz

)

8

–

16

ounces club soda
---
Instructions
Peel some of the rind off the lemon and core the pears.
Put the cucumber, lemon, pears, kale, and ginger through the juicer.
Pour the mixture through a fine mesh sieve. Fill a tall glass with ice and add about one cup of juice concentrate.
Top with about ½ cup of club soda and enjoy! Adjust club soda and juice to taste
---
Notes
Feel free to adjust the juice according to taste. Add more pear if you like it sweeter. More lemon if you want it tart and more ginger if you like spice. Also, if Kale is too strong you can always substitute spinach
---